Here is our list of the best spas in NYC.
Spas in NYC are venues you can visit for rest, relaxation and restoration. New York City has a variety of options from Japanese Shiatsu massages and cutting-edge anti-aging facials to an award-winning hotel spa to a hyperbaric oxygen chamber at a new social wellness club.
This list includes:
All-natural spas in NYC

Luxury spa boutiques in Manhattan

Relaxing massage spas in New York City

Skincare specialty spas

Casual and affordable spas
Let's get into it.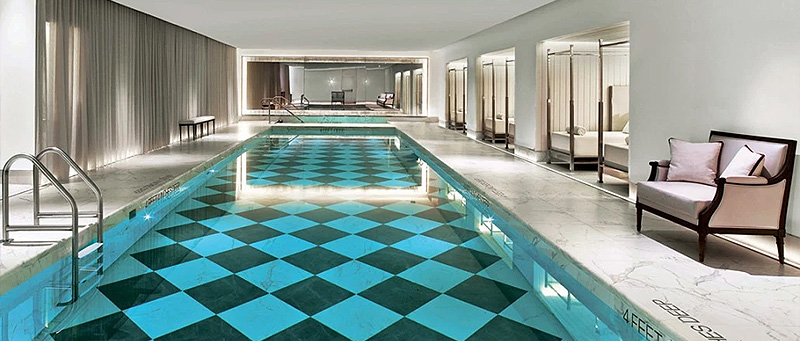 List of Best Spas in NYC
From Joanna Vargas and Rescue Spa to Oasis Day Spa and Spa Castle, check out some of the best spas in NYC below. 
Aire Ancient Baths —

The Aire Ancient Baths brand is known throughout the world, but the New York location is particularly opulent. A day spent relaxing at Aire is set in a big, sweeping bathhouse with a beautiful atmosphere, and with the lengthy list of treatments, you will want to make sure you allot enough time to explore everything. This serene haven is housed in a historically significant structure which has undergone restoration and combines ancient and modern elements. The baths at Aire are undoubtedly something to brag about in addition to the highly qualified therapists who have a plethora of expertise from all around the world. The use of whirlpools, cold baths, salt baths, and precisely warmed pools of water in ancient baths ensures an incredible atmosphere all day long.
Rescue Spa —

Visit the Rescue Spa, which is aptly titled. The New York location is an urban health retreat with a wide range of spa services ideal for saving you from all of your ills and qualms. Here at Rescue, specialized therapists create amazing facial concoctions using only the finest, highest-quality skincare components after taking one quick look at your skin. You will not just have an excellent experience when visiting the day spa at Rescue, but you will also leave knowing just how to handle your skincare problems. Rescue Spa's enormous selection of products makes it a one-stop shop for quickly and conveniently changing up your skincare regimen. 
Spa de La Mer at the Baccarat Hotel —

When you enter Spa de La Mer, you immediately feel calm. The best spa for skincare devotees is Spa de La Mer at the Baccarat Hotel—a luxurious location in the center of Manhattan which specializes in everything the La Mer company does well. Spa de La Mer is a spa with a heightened focus on the company's products. With a few extras to really make an appointment here seem like the ultimate splurge, a spa treatment includes the complete process from start to finish rather than just purchasing the premium cream and applying it at home. The serene location based inside the Baccarat Hotel is flooded with ambient light and noises from the sea, making Spa de La Mer a must-see for spa enthusiasts

.
The Spa by Equinox Hotels —

Calling a spa "The Spa" and assuming that this particular spa at Equinox is the one in mind could come out as being overconfident. Yet, it only seems fair to share the name when it's a spa as amazing as The Spa at by Equinox Hotels. The Spa is a breathtaking experience with its infrared sauna, marble settings, and customized spa treatments, combining all things a great spa should provide and more. The Spa in NYC, an award-winning retreat, offers a menu of constantly changing treatments ranging from sumptuous and pampering alternatives to technology-driven therapies. From the moment you enter The Equinox's unusually sophisticated doors, The Spa is a true experience. The best spa days here last far into the evening, and you may conclude them by wrapping up in luxurious accommodations such as ultra-soft towels and robes. The Spa is the epitome of healing and relaxation.
Shibui Spa at The Greenwich Hotel —

Shibui Spa is located inside the Greenwich Hotel at the center of Tribeca, and the staff and services available emphasize balance. It is impossible to leave this spa without feeling almost as though you have been born anew because it not only uses natural resources like wood, water, and stone in its construction but also organic and plant-based practices whenever possible. Shibui Spa, a sanctuary in the center of busy New York City, greets you with its cozy smells, soothing music, and ambient lighting. A visit to Shibui Spa begins with a gorgeous Japanese robe to relax in and ends, most likely, with you scheduling yourself another treatment. This magnificent spa combines both traditional and modern healing procedures. Every time you visit Shibui, yoga and meditation by the pool will keep your mind as relaxed as your body. 
Joanna Vargas —

Those who love skincare products, procedures, or rituals unite: Joanna Vargas is a must-visit spa in New York City. This top-notch, luxury spa, owned by famous esthetician Joanna Vargas, is a well-known destination that is well worth your time. While getting an appointment can be challenging, those who persevere through the extended waits have nothing but amazing things to say about the procedure and the outcomes. Power peel facials are offered with oxygen-formulated facials and skin rejuvenation. After your consultation, all of the treatments offered at Joanna Vargas are customized to meet your unique needs, so you will feel naturally inclined to simply unwind while the professionals work their magic. Joanna Vargas' NYC spa is a hit whether you are new to skincare and want to go directly to celebrity level professionals or you are a pro yourself and know your own skin needs. 
Haven Spa —

You know what you are getting at Haven Spa: a beautiful location that is knowledgeable about customized treatments. This chic, up-to-date spa in New York City provides a variety of services, including massages, body therapy, laser hair removal, and beauty treatments. You will be questioning whether you genuinely need a massage or if you actually need a massage, a facial, a pedicure, and, well, maybe something else thrown in for good measure, too. The ideal outcome? Use the packaging options available here. Due to its wide range of highly qualified employees and years of experience, Haven Spa does everything to an excellent level. 
The Peninsula Spa —

The experience at The Peninsula Spa in New York City is truly immaculate. This five-star hotel has every right to be confident in its ability to provide a variety of the top spa services in New York City, doing so with style and ambiance. The Peninsula Spa is ideally located in a quiet area apart from the hustle and bustle of Midtown Manhattan. Visit us for the day or stay the night for a lovely extension to your relaxed day of pampering. When you are dressed in your robe and slippers, where do you even begin? A number of the particularly well-liked facial treatments offered here are inspired by the French luxury skincare brand Biologique Recherche. Instead, you can choose a massage for 60 minutes of pure, unadulterated happiness. If you are looking for a true treat, you may even book a private spa suite in this opulent, intimate setting.
Cornelia Spa at The Surrey —

The Cornelia Spa at The Surrey is an Upper East Side boutique spa surrounded by soothing, white furniture in every direction. This hidden gem offers a variety of specialized facials, massages, and other treatments which are tailored to your needs and go above and beyond to make you feel like royalty. It is simple enough to schedule a day here if you're only coming in for a few hours, but you will appreciate the experience so much more if you begin your spa day by waking up in The Surrey. The finishing touches to your trip include sensory touches, an amuse-bouche tasting, and some downtime in a quiet, luxurious library. A day spent at the Cornelia Spa in New York City is always a smart option because it's contemporary, spotless, and peaceful. 
Pure Qi Spa —

While you will want to keep Pure Qi Spa a secret from your friends, you will also want to let everyone know about it so they may enjoy the wonder that this New York City spa has to offer. Brooklyn's Pure Qi Spa is renowned as the best place to receive a massage due to the skilled technicians, reasonable prices, comfortable and calming atmosphere, and consistently excellent services. Pure Qi Spa is a must-visit whenever you wake up with aches and pains, especially if you struggle with knots after workouts. Pure Qi excels at its signature massages, and if you want a little extra, upgrading is simple thanks to a wide selection of add-ons. A luxurious touch that guarantees you will remember Pure Qi Spa long after your treatment ends is the use of hot stones for your massage. Pure Qi stands out from the competition thanks to its distinctive, skilled methods. 
ORA —

Acupuncture is the only focus of ORA. The best place in New York City to find skilled practitioners with a light touch is this contemporary, spotless, and understated spa. ORA knows everything there is to know about resolving various ailments in a pain-free manner by fusing efficiency and relaxation. This is a holistic wellness center that mixes traditional Chinese medicine with contemporary conveniences in a stunning setting that makes you feel right at home. 
Spa Castle —

The kind of spa where you will gather all of your close friends before making the vacation into a carefully planned and looked forward-to annual event is embodied by Spa Castle. A fun spa that does not put on a show, Spa Castle is a great combination of luxury and casual, with a broad variety of treatments and lots of additional amenities to utilize. A membership at Spa Castle offers more than just massages and facials—think hydrotherapy, saunas, and reflexology, among other things. You will have more of an experience rather than just a day trip. 
The Spa at Mandarin Oriental —

At the Mandarin Oriental in New York City, personalized therapies and custom treatments are the order of the day. With lavish products and chic decor, The Spa, located inside a prominent five-star hotel, is a refuge for relaxation. While specialty spa suites offer one-of-a-kind individual treatment experiences inspired by ancient traditions and customized to your needs, private treatment rooms provide an opportunity to relax under the caring hands of a highly trained practitioner. 
Natura Spa —

One of the friendliest spas in New York City is without a doubt Natura Spa. Once you have met your therapist for the day here, leave prepared to schedule another appointment with your new go-to therapist for the foreseeable future. Whichever service you come in for—a massage, a haircut, or a wax—by the conclusion of your visit, you will not only be on first name terms but also almost friends. You will almost certainly leave this salon-spa looking and feeling your best because everyone there is passionate about what they do, and each treatment includes lovely and unique touches. Away from the city, this haven of harmony and peace combines natural and organic products with extra warmth and care to create the ideal spa day. 
Oasis Day Spa — Oasis Day Spa is consistently rated as one of New York City's top spas because of its reasonable prices, extensive menu of treatments, and high caliber of service. Located on Park Avenue, it is a perfect getaway without having to leave the city, and an ideal destination to entertain business clients, host a bridal shower, or celebrate any special moment. If you are looking to escape the city for the day, their second spa location in Westchester features a beautiful outdoor Rooftop Garden where guests can lounge and relax before or after their appointments!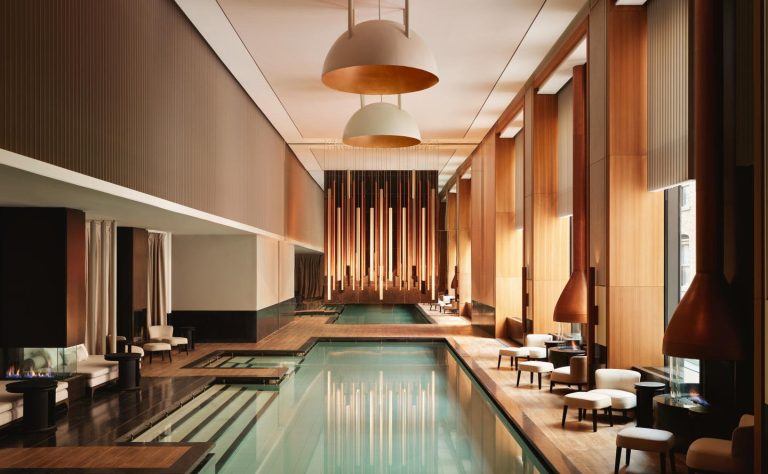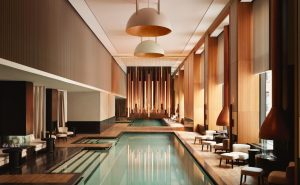 Conclusion
New York City has some of the best spas in the world. People travel far and wide to reap the benefits of these amazing services. While there are many options to choose from, the list above should help you narrow down your choices to find the best fit for you.