You found our list of the best massage therapists in NYC.
Massage therapists in NYC are professionals who manipulate the soft tissues and joints of the body in New York City. These professionals use a variety of techniques to encourage relaxation, reduce pain, and improve flexibility. Different types of massage therapists utilize various methods to achieve a specific purpose, such as Swedish or hot stone massage.
This list includes:
Thai massage therapists in NYC

Wellness and therapeutic massage therapists

Sports massage therapists in NYC

Deep tissue massage therapists in Manhattan

Swedish massage therapists

Mobile massage therapists
Let's get into it.
List of Best Massage Therapists in NYC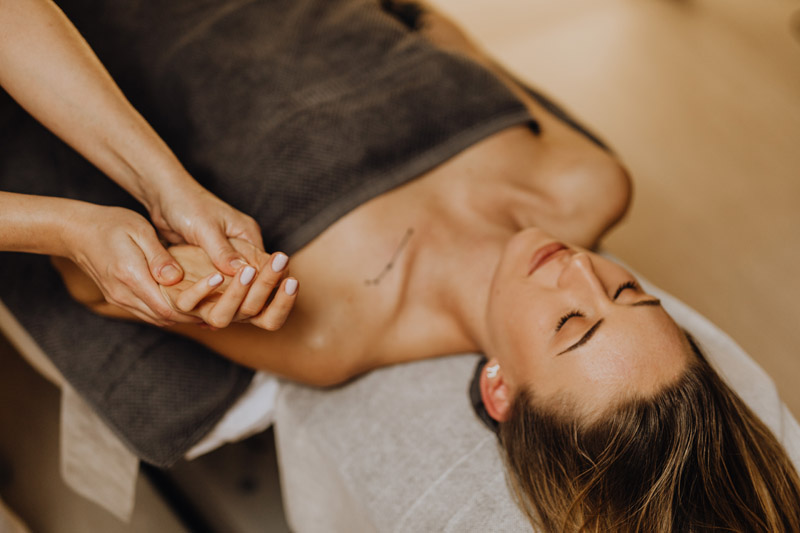 From Elite Healers Sports Massage to Heavenly Hands NYC, check out some of the best massage therapists in New York City below.
Advanced Massage Therapy at Bodyworks DW —

New York City residents can receive massages at Advanced Massage Therapy at Bodyworks DW, which specializes in medical deep tissue massage, enhancing mobility and easing various pain conditions. Also, Advanced Massage Therapy offers individualized massage treatments from its therapists, such as myofascial release, trigger point therapy, sports massage, prenatal massage, and triggered isolated stretching. Via BWDW TV, the Advanced Massage Therapy at Bodyworks DW library of self-help movies, you can access tools and advice for easing physical discomfort. 
Authentic Thai Massage NYC —

A massage clinic in New York City called Authentic Thai Massage NYC serves to please its clients' needs. Thai massage, Swedish massage, and Tok-Sen massage are among the most popular massage modalities offered. As well as other massage services, Authentic Thai Massage NYC provides foot massages, ashiatsu massages, herbal ball compress, and combination massages, along with Thai massage and Tok-Sen instruction programs. 
Eileen Togher L.M.T. —

Some of the best massages in New York City are offered at Eileen Togher LMT. Owner Eileen Togher is a certified massage therapist with expertise in a range of massage techniques. Togher is highly skilled and knowledgeable in deep tissue, Swedish, prenatal, Reiki, and myofascial release massages. Reflexology and yoga therapy are also offered by Togher, which are treatments meant to aid people in releasing stress, reducing discomfort, and easing muscle tension. Togher holds a 200-hour Dharma Yoga teacher certification and consistently pursues more education to broaden her expertise in the subject and better her salon.
Elite Healers Sports Massage —

In New York City, Elite Healers Sports Massage is the place to go for athletes and sports-enthusiasts. Elite Healers offers a wide range of services, including 30- to 120-minute-deep tissue, Swedish, and Thai massage sessions. However, the massage therapists specialize in sports and medicinal massage. You will receive top-notch treatments at Elite Healers which will aid you in getting better rest, healing from pain, and recovering from injury. Additionally, Elite Healers Massage offers online video tutorials to teach clients how to take care of themselves in between massage sessions, making the experience even more worthwhile in the long run.
EM Wellness Massage —

Erskine Melville is an integrated licensed massage therapist who uses massage therapy to assist clients in New York City in reducing stress and regaining balance. Melville's method of bodywork is energetic and intuitive as he employs gut feelings to apply pressure and target the deepest layers of muscles and connective tissues. Melville specializes in deep tissue, prenatal, and sports massage. In the accessible Union Square East-Park South Plaza, you will find his long-running establishment EM Wellness Massage, where some customers have been coming for 16+ years. 
Gotham Therapeutic Massage —

In New York City, massage expert Jennifer Morgan established a private practice called Gotham Therapeutic Massage. Morgan has been a massage therapist for 13+ years, and prior to starting her own practice in 2016, she spent nine years working for day spas. Morgan is an expert in back and neck discomfort, providing therapeutic massage sessions for the relief of migraines, arthritis, jaw pain, and persistent muscle tension. Morgan has credentials in life counseling with an emphasis on reducing fear and anxiety in addition to massage therapy. By visiting Gotham Therapeutic Massage, you can completely alter the way your neck and back feel. 
Heavenly Hands NYC —

Customers in New York City can receive some of the best massage therapy services in the country from Heavenly Hands NYC. Swedish, circulatory, chair, aromatherapy, and deep tissue massages are among the therapies offered. Also, Heavenly Hands provides reflexology services to assist clients with plantar fasciitis and injuries to the ankles. Owner Alesandra Liriano has over 12 years of experience as a holistic practitioner, wellness proponent, and massage therapist. Liriano has received training in Reiki, Taoist healing sounds, essential oils, and relaxation techniques, all of which are integrated into the Heavenly Hands NYC location.
LizWell Therapy —

LizWell Therapy, located in New York City, provides solutions for easing stress, managing pain, restoring mobility to the muscles and joints, and healing from injuries. LizWell massage therapist experts offer deep tissue, Swedish, neuromuscular, myofascial, and trigger-point massages among other types of therapies. Sport and therapeutic massages are specialty services, which can be hard to find in the city, offered by LizWell. Elizabeth Bennett, the proprietor of the business and a licensed massage therapist, specializes in stress relief, pain management, and restorative therapy. The New York Society of Medical Massage Therapy is one of Bennett's professional organizations. 
Lomi Manhattan —

Krittiya Leoviriyakit, popularly known as Tia, a certified massage therapist with 38 certificates, has a private clinic called Lomi Manhattan. This quaint yet luxurious massage studio offers a range of massage treatments, including therapeutic Lomi Lomi massage, medical massage, Thai massage, and Shirodhara therapy to people in New York City and the surrounding areas. Only pure organic items are used to give these therapies, including Fijian body butter, Thai herbal balls, French Polynesian basalt stones, and coconut oil. 
Madison Healing Arts —

Madison Healing Arts is another long-running, popular New York City massage therapist hotspot. Madison Healing Arts professionals use therapeutic massage techniques like foot reflexology, deep tissue massage, and total body deep relaxation. These highly skilled massage therapists also provide Reiki, chakra balancing, and Thai yoga sessions. In addition to being a member of Thai Healing Alliance International, Madison Healing Arts is licensed by the National Certification Board for Therapeutic Massage & Bodywork. After 10 years of Thai yoga, energy work, and meditation, founder Pani Chanyong is now a certified meditation teacher. 
Mahalo Massage NYC —

Mahalo Massage NYC is a unique experience for New Yorkers. With two therapists who have over 40 years of combined expertise, Bob Gallagher and Zoe Picayo, customers at Mahalo can expect a fully individualized experience. Gallagher or Picayo will assist you in determining the cause of your physical discomfort, which can range from muscle aches brought on by stress to sports-related injuries. Once the problem has been located, the therapists offer intuitive massage techniques like Swedish, deep-tissue, and craniosacral treatment. Picayo enjoys working with new or expectant mothers and is also qualified in prenatal massage.
Massage Therapy by Eddie —

Residential clients in New York City and the neighboring areas can get high-quality, specialized massages from Massage Therapy by Eddie. Since starting his business more than 10 years ago, owner Eddie has honed a number of different massage techniques, combining Swedish, deep tissue, and sports massage strokes. Eddie's clinic additionally provides head and neck therapy. For a quicker recovery and more profound relaxation, Eddie combines all of his massage therapy services with Hypervolt and Theragun. 
Myokinetic Massage Therapy —

Myokinetic Massage Therapy provides functional and therapeutic massage therapy treatments for thoracic outlet syndrome, sciatica, headaches, migraines, and other bodily pains. Kevin Zeh, a massage therapist with a license in the state of New York, is the owner of Myokinetic Massage Therapy. While healing from a neck and shoulder injury he got while playing football and lacrosse at Pace University, Zeh developed a passion for massage therapy which is represented in his now highly successful New York City massage therapy business Myokinetic Massage Therapy. 
NewHealthCity —

A mobile treatment facility in New York City called NewHealthCity offers a variety of therapeutic massages according to the needs of the client. The massage therapist handles conditions including tech neck, which is brought on by improper smartphone use, Achilles tendonitis, wrist discomfort, migraines, and scoliosis. Sports massage therapy and neuromuscular therapy are also provided by NewHealthCity massage experts. Patients receive recommendations about better lifestyle choices and the body areas they need to address and be cautious with after the initial evaluation identifies movement anomalies. 
NYC Massage & Spa —

A group of massage therapists and estheticians called NYC Massage & Spa provides services to people all throughout the metro area. Along with offering massage therapy in the studio, the team also offers the spa experience to New York City residences, workplaces, hotels, and special events. These highly skilled massage therapists offer a variety of massage modalities, such as deep tissue, traditional Swedish, and pregnancy massage. Additionally, NYC Massage & Spa provides lash lift procedures, eyelash extension applications, and anti-aging face treatments. 

Conclusion
In order to encourage relaxation, reduce pain, and improve flexibility, massage therapists employ a variety of techniques. Prior to working with customers, they must complete up to 2,000 hours of practicum in which they treat patients under the guidance of an experienced massage therapist. Therapists must also complete comprehensive training on anatomy and massage techniques.
While some massage therapists only offer relaxation massage, others have received considerable training to use a range of methods, such as reflexology, deep tissue, and cupping to treat particular injuries and conditions. Massage therapists may also specialize in hydrotherapy and hot stone massage.
FAQ
What do massage therapists do?
To relieve tension, massage therapists work on the muscles by stroking, kneading, and massaging them. This can lead to improved flexibility and mobility as well as a significant decrease in pain from stiff or knotted muscles. Athletes and those who have suffered significant injuries are among the people who frequently receive therapy from massage therapists.
Is massage therapy safe?
Although massage therapy is generally safe, those with underlying medical issues or injuries should speak to their primary care or treating doctor about this treatment option. This also holds true for expectant mothers who are interested in prenatal massage; although massaging is generally safe during pregnancy, it may be advised against for high-risk expectant mothers.
What are the types of massage therapies?
There are various varieties of massage treatment, each serving a distinct function. While some, like hot stone massage and aromatherapy, encourage relaxation, others are more therapeutic. Several pressure levels and techniques are used for each type of massage. The most typical massage therapy types are as follows:
Aromatherapy massage:

Using Swedish massage techniques along with essential oils to enhance relaxation

Deep tissue massage

: Used to treat musculoskeletal issues and involves increased pressure and deep strokes

Hot stone massage:

Hot stones are laid on the muscles prior to massage to ease tense muscles

Prenatal massage

: Specialized massage technique for pregnant individuals

Reflexology massage: Massage to pressure points in the feet and hands

Sports massage:

Targets injuries and strains for athletes

Swedish massage

: Relaxation massage that increases circulation throughout the body by manipulating soft tissues
Is it normal for a massage to be painful?
While some muscles may become tender during a massage, it is neither healthy nor beneficial to feel pain during the massage. In fact, discomfort can lead to muscle tension, which makes it more challenging for the therapist to give you a decent massage. It's advisable to inform the massage therapist if you experience pain during the massage so they can use less pressure.
How do I hire a massage therapist?
Massage therapists are frequently hired by wellness centers and chiropractic clinics to expand their service offerings. If your neighborhood clinic does not provide one, you can easily get a recommendation from your primary care doctor or another healthcare professional.