Here is our list of the best yoga studios in NYC
Yoga is a physical, mental, and spiritual practice that originated in ancient India. Yoga involves a series of postures, known as asanas, which are designed to strengthen the body, increase flexibility, and improve overall health and well-being. There are many different styles of yoga. Examples include Hatha, Vinyasa, Ashtanga, Bikram, and Kundalini.
This list includes:
Hot yoga studios

Spiritual yoga studios

Pilates-yoga hybrid studios

Restorative yoga studios

Body positive yoga studios

Kid-friendly yoga studios
Let's get into it!

List of Best Yoga Studios in NYC
From high-end Upper East Side pilates-based yoga studios to more spiritual yoga studios in Brooklyn, check out some of the best yoga studios in NYC below.
1. Y7 Studio
With two locations, one on the Upper East Side and one in Soho, Y7 Studio offers a unique approach to yoga that blends traditional yoga poses with high-intensity interval training (HIIT). Classes take place in a dark, candlelit room with a hip-hop soundtrack, and students flow through a series of poses at a fast pace to get their heart rates up. This innovative approach to yoga has made Y7 Studio popular among those who are looking for a more intense workout.
Check out Y7 Studio. 
2. Sky Ting Yoga
Sky Ting is a modern yoga studio with a beautiful and calming atmosphere. Expert instructors offer a range of classes, including Vinyasa, Hatha, and meditation, as well as hosting various workshops and events. Sky Ting has a strong focus on alignment and technique, making it a great option if you want to improve your strength and physical practice. Students love the peaceful and nurturing energy of the studio which is located in New York's Chinatown and has breathtaking views of the Manhattan Bridge.
Learn more about Sky Ting Yoga. 
3. The Yoga Common NYC
The Yoga Common emphasizes the spiritual aspects of yoga practice, making it ideal for the yogi who is looking to clear their chakras. Visit this studio for a variety of classes, including Vinyasa, Hatha, and meditation, as well as workshops and teacher training programs. The community at The Yoga Common is well known for being supportive and inclusive, which helps foster a sense of connection and belonging which can be difficult to find at some other studios.
Check out The Yoga Common NYC. 
4. Pure Yoga
Pure Yoga is a luxury yoga studio with top-notch instructors and beautiful facilities. This incredibly diverse facility offers a wide range of classes, including hot yoga, Ashtanga, and restorative yoga. Pure Yoga also has a strong focus on mindfulness and meditation, which makes it a great option for those looking to improve their mental and emotional well-being. Pure Yoga also offers a variety of amenities and services for its members, including locker rooms with showers and sauna facilities, a juice bar, and a boutique selling yoga apparel and accessories. You can use this studio to escape the hustle and bustle of the city for a little while.
Sign up for a class at Pure Yoga. 
5. Harlem Yoga Studio
Harlem Yoga Studio is a community-based yoga studio dedicated to making yoga accessible to people of all backgrounds. What sets this incredibly inclusive studio apart is its commitment to social justice and community building. By offering free classes to people of color and those experiencing financial hardship as well as hosting events and workshops that focus on social justice issues, this Harlem-based studio is contributing to the greater good and inviting you to do the same. This dedication to inclusivity and social justice makes Harlem Yoga Studio a unique and important part of the NYC yoga community.
Learn more about Harlem Yoga Studio.
6. Integral Yoga Institute
Integral Yoga Institute was founded by Sri Swami Satchidananda, a renowned spiritual teacher from India. Integral Yoga's approach to yoga is rooted in the teachings of the ancient sage Patanjali, and classes often include meditation, pranayama (breathing exercises), and spiritual teachings, as well as a variety of classes, including Hatha, Restorative, and Kundalini yoga. Plus, Integral Yoga Institute offers special classes for those with arthritis or looking to qualm other medical ailments.
Sign up for a class at Integral Yoga Institute. 
7. Kula Yoga Project
Located in Brooklyn, Kula Yoga Project offers a variety of yoga classes, including Vinyasa, Hatha, and meditation. With a focus on community and spirituality, the instructors at Kula believe that yoga is not just a physical practice, but also a path to self-realization and spiritual growth. Classes at Kula often include chanting, meditation, and teachings from spiritual texts. By practicing here, you will be more able to access a more enlightened version of yourself and feel good while doing it.
Learn more about Kula Yoga Project. 
8. Sonic Yoga
In the heart of Manhattan, you can find a sense of peace and tranquility at Sonic Yoga. This unique yoga studio aims to teach yoga, self reflection, and self improvement through the healing power of sound. By offering classes that integrate sound healing with yoga, the instructors at Sonic Yoga utilize instruments like crystal singing bowls, gongs, and chimes to create a deeply relaxing and meditative experience. Sonic Yoga also offers workshops and events that focus on spirituality and self-awareness.
Sign up for a class at Sonic Yoga. 
9. The Bhakti Center 
For yogis looking to align with a higher power, the Bhakti Center is a yoga studio and cultural center dedicated to the practice of Bhakti yoga—a spiritual path which emphasizes devotion to God. This beautifully crafted and relaxing studio offers a variety of classes, including kirtan (devotional chanting), asana (yoga postures), and meditation. The Bhakti Center's approach to yoga is grounded in the teachings of the ancient Vedas and Bhagavad-gita, and classes often include readings from these texts.
Learn more about The Bhakti Center. 
10. Modo Yoga NYC
For the fitness junkies, Modo Yoga NYC has two locations in the city and offers a variety of classes, including hot yoga, flow yoga, and barre. These classes are designed specifically to build strength, flexibility, and endurance, while also promoting mindfulness and stress reduction. Modo Yoga's hot classes are heated to 98 degrees, which helps improve circulation and flexibility. You will not leave this studio feeling relaxed and sleepy; instead, you will leave feeling strong, energized, and ready to tackle life's challenges.
Sign up for a class at Modo Yoga NYC. 
11. Lyons Den Power Yoga
Lyons Den Power Yoga is another yoga studio specializing in power yoga classes, so if you plan to visit this studio, then be ready to work and get sweaty! With classes designed to be challenging and dynamic, instructors will focus on building strength, endurance, and flexibility. Lyons Den's classes are heated to around 90 degrees, so be sure to bring your sticky mat and a towel.
Learn more about Lyons Den Power Yoga. 
12. Abhaya Yoga
Located in Brooklyn, Abhaya Yoga is known for classes which are designed to be welcoming and accessible to people of all ages, sizes, and abilities. Abhaya Yoga's approach to yoga is focused on self-acceptance and self-love, with a goal of promoting overall health and wellness. Instructors at Abhaya offer a variety of classes, including Vinyasa flow, restorative yoga, and yoga for seniors.
Check out Abhaya Yoga. 
13. Love Child Yoga 
Love Child Yoga, located in the heart of Manhattan's West Village offers a variety of classes for children, parents, and families, including pre and postnatal yoga, kids yoga, family yoga, and even baby and me classes. Love Child Yoga is a great option for parents who want to introduce their children to yoga or for families looking to practice yoga together. Plus, this unique studio is focused on inclusivity and community, making it an overall uplifting and positive experience for the whole family.
Learn more about Love Child Yoga. 
14. The Studio 
Located in the heart of New York City's Flatiron district, The Studio sets itself apart from other yoga studios in NYC with its focus on providing a holistic approach to yoga and wellness. The Studio offers a variety of classes, including Vinyasa, Hatha, Restorative, and Yin yoga, as well as meditation, breathwork, and sound healing classes. This modern studio is also dedicated to sustainability and eco-friendliness with sustainable materials and eco-friendly amenities, including natural cleaning products, filtered water, and reusable water bottles. Plus, The Studio is committed to giving back to the community by regularly hosting charity events and donating a portion of their proceeds to local non-profit organizations. You will not regret spending your hard-earned money at this community-oriented, eco-friendly studio in NYC.
Sign up for a class at The Studio. 
15. Om Factory Yoga
Om Factory Yoga is located in the West Village neighborhood of Manhattan and is sure to provide a highly unique and exciting experience for yogis at any level of practice. In addition to traditional yoga classes, including Vinyasa and Hatha yoga, Om Factory also offers Aerial yoga, AcroYoga, and Wall yoga. These classes are suitable for students of all levels and provide a fun and challenging way to practice yoga. Plus, Om Factory is committed to making yoga accessible to everyone by offering classes in a variety of languages, including Spanish and French, to cater to a diverse student population. Do not miss out on this non-traditional, fun yoga experience.
Learn more about Om Factory Yoga. 
16. YO BK 
With locations in both Williamsburg and Greenpoint, YO BK is ideal for any yogi, regardless of location, skill level, or previous experience. One of the unique aspects of YO BK is its innovative use of technology. The studio uses smart technology to track students' progress and help them improve their practice. For example, the studio uses smart mats that can detect students' movements and provide feedback on their alignment and form. You will definitely notice progress after a few classes with these knowledgeable and experienced instructors.
Sign up for a class at YO BK. 
17. The Fhitting Room
The Fhitting Room is a unique hybrid fitness studio with three New York City locations in Flatiron, the Upper East Side, and the Upper West Side, offering a blend of high-intensity interval training (HIIT), yoga, and pilates. These classes combine cardio and strength training with pilates and yoga movements to provide a full-body workout. You are guaranteed to leave this studio feeling both sweatier and stronger.
Learn more about The Fhitting Room. 
Conclusion
New York City is home to many yoga studios that focus on spirituality, fitness, and self-care with a range of styles and practices to choose from. Whether you are looking to improve yourself physically or mentally, the list above will give you several fantastic NYC yoga studio options to choose from.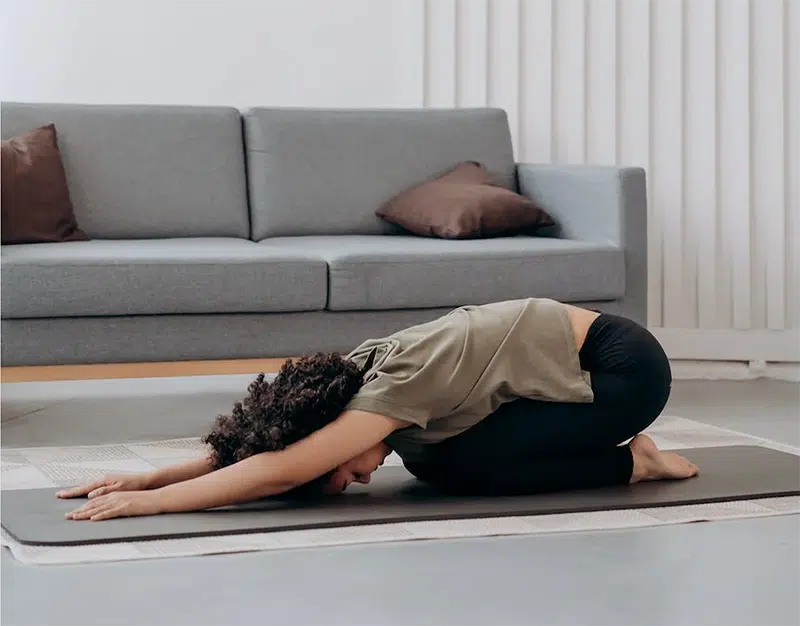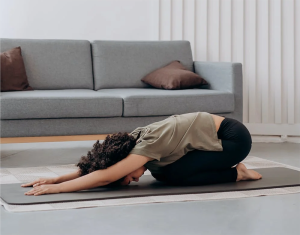 FAQ
What is yoga, and what are its benefits?
Yoga is a physical, mental, and spiritual practice that originated in ancient India. It combines physical postures (asanas), breathing exercises (pranayama), and meditation to promote physical strength, flexibility, balance, and relaxation. In addition to the physical benefits, yoga has been shown to reduce stress and anxiety, improve mental clarity and focus, and promote overall well being.
How do I get started with yoga?
If you are new to yoga, it is best to start with a beginner's class or series, where you can learn the basics of yoga postures and breathing techniques. You can find beginner's classes at most yoga studios, community centers, and gyms. It is also a good idea to invest in a yoga mat and comfortable clothing that allows you to move freely.
Do I need to be flexible to do yoga?
No, you do not need to be flexible to do yoga. In fact, yoga can help improve flexibility over time. It is important to listen to your body and practice within your limits. A good yoga teacher will offer modifications and variations of poses to accommodate different levels of flexibility and strength.
What type of yoga should I practice?
There are many different types of yoga, each with its own unique approach and benefits. Some popular styles include Vinyasa, Hatha, Restorative, and Kundalini yoga. It is a good idea to try out a few different styles to see which one resonates with you. You can also ask your teacher or yoga studio for recommendations based on your goals and experience level.