Here is our list of 18 things to do in NYC for couples
Perhaps one of the most beautiful cities in the world is New York City, which is why it is a great place to do things with your significant other. There are countless ways to charm your sweetheart in the city, including stunning skyline views, lovely park strolls, lavish hotel spas, and of course, extremely romantic eateries. Examples of things to do as a couple include getting dinner or drinks, getting a pedicure together, and rock climbing. 
This list includes:
Weekend getaways

Museum date ideas

Dinner date ideas

New skill class date ideas

Theater date ideas

Wellness date ideas
Let's get into it!
List of Things to do in NYC for Couples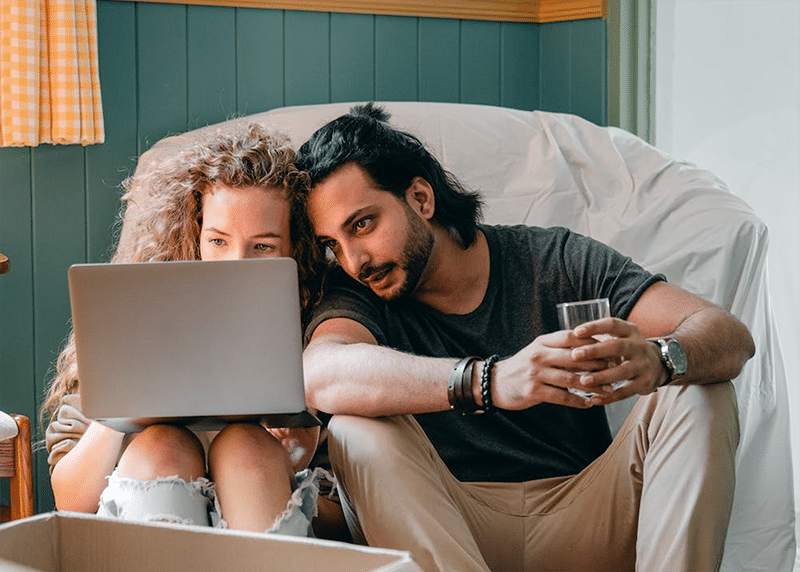 From getting a pedicure at Sundays or taking your date on a ride on the tram to Roosevelt Island, check out some of these cool ideas for couples in New York City below.
1. Take a boozy cooking class at Taste Buds Kitchen
A glass of wine is necessary for any romantic dinner. BYOB Taste Buds cooking classes will appeal to oenophiles and casual drinkers equally. While drinking your preferred vintage, prepare meals like salmon in a papillote, bacon and leek risotto, and red wine-poached pears.
Reserve a class at Taste Buds Kitchen. 
2. Visit the Cloisters
The Cloisters, where the Met's medieval art and building collections are kept, is a beautiful park with a view of the Hudson River. A castle that appears to have endured from the Middle Ages can be reached via a path that winds through the serene gardens. You can easily imagine yourself as a romantic royal having a tryst with their partner in this setting, which features stone buildings and meticulously landscaped gardens.
Read more about The Cloisters. 
3. Book a romantic weekend getaway at The Dream Hotel
If you are planning a weekend getaway in NYC, The Dream Hotel is conveniently located downtown just a short walk from the Empire State Building. The Dream Hotel's modern design permeates every space, including the stunning rooftop pool which is a popular summertime location. Egyptian cotton sheets and plush bathrobes are provided in each room as a favor for when you want to curl up with your sweetie.
Learn more about The Dream Hotel. 
4. Ride the SeaGlass Carousel at The Battery
The SeaGlass Carousel is a whimsical, warped underwater reality ride developed by The Battery Conservancy over the course of almost a decade and $16 million. From the looks of it, this ride is well worth the $5 entry fee. Sit inside a color-changing LED fiberglass fish and cruise to Mozart for a three and a half minute psychedelic journey. Your significant other will enjoy the creative new experience.
Learn more about the SeaGlass Carousel at The Battery. 
5. Get a pedicure together at Sundays
Take a day to relax by making an appointment at Sundays for a couples' pedicure. This NYC salon has several options for pedicures, but we highly recommend trying the Eco-Paraffin pedicure. The Eco-Paraffin pedicure is a plant-based, all-natural, responsibly farmed alternative to traditional paraffin manicures, and it is developed using shea butter and natural oils. By removing dead skin cells and opening pores, eco-paraffin softens and hydrates the skin, while the heat of the therapy promotes blood flow, eases achy muscles, and loosens stiff joints. This winning combination also includes the advantages of normal pedicure services and a 10-minute massage.
Learn more about Sundays. 
6. Take the tram to Roosevelt Island
A three-minute, lofty ride to Roosevelt Island will set your pulse racing as you cross the East River and enjoy 360-degree views of the city before arriving at the island's tree-lined promenade. If you time your walk correctly, you can catch the sunset while also getting stunning views of the Manhattan skyline. One of the few places in New York City that is a delight to reach by public transit is probably Roosevelt Island. The area's attractions include tennis facilities, baseball diamonds, and Franklin D. Roosevelt Four Freedoms Park, a memorial to our 32nd president that is situated on the southern tip of the island.
Learn more about Roosevelt Island. 
7. Sign up for a rock-climbing class at Brooklyn Boulders
The biggest climbing facility in New York City is by far Brooklyn Boulders. Yoga and pilates instruction is also offered, in addition to climbing courses for climbers of all levels. Spend some time climbing over some boulders before you two start throwing pebbles at each other. You and your bae can use the auto-belay to scale the 22-foot-tall rock wall at this 25,000-square-foot rock climbing gym, or you can alternate taking turns acting as the belayer.
Find out how to sign you and your date up for the next class at Brooklyn Boulders. 
8. Lavish at Brooklyn Chop House
The L.S.D. Special from this FiDi restaurant should do the job if you want to spoil your significant other with a fancy dinner. A brace of two-pound lobsters, a dry-aged porterhouse steak, and a whole Peking duck are included in this opulent package, along with sides like lobster fried rice, onion rings, and wok-fried mushrooms. You will not leave hungry, that is for sure.
Make a reservation and learn more about Brooklyn Chop House. 
9. Intrigue them at the Museum of Sex
At MoSex, which features tastefully erotic and outright bizarre art and artifacts, you and your sweetie can view the most recent exhibits and bounce inside a seductive bouncy house to get those date-night jitters out. Super Funland, the museum's erotic festival, should not be missed. There are erotic fortune tellers modeled after RuPaul, kissing booths, light-up climbing structures, and a 4-D immersive "Tunnel of Love" experience. Stop by the gift store, which is stocked with books, sex toys, and aphrodisiac remedies, and then carry on your at-home romance. On the weekends, the museum is open until midnight, making it the ideal place for a late-night rendezvous.
Check out the erotic Museum of Sex. 
10. See a mashup comedy and pole dancing show at Schtick a Pole In It
You will not believe how well humor and pole dancing can blend together. Pro dancers provide the audience with entertainment from top stand-ups between performances at Schtick a Pole In It. Dan Goodman, Joanna Ross, and special guests will greet comics and pole dancers from all over NYC. Every performance has a unique theme, and recent ones have included Prince, Ludacris, Beyonce, and The Beatles.
See more about this unique half comedy, half exotic dancer club at Schtick a Pole In It. 
11. Go on a beautiful walk together
Enjoy the sights of New York City with your date, from a hidden trail through Central Park that leads to a waterfall to the "small-town" Brooklyn neighborhood blocks. At the end of a long walk, you can warm up in each other's embrace.
Check out this list of walking trails in NYC. 
12. Relax at the Winter Spa at The William Vale
You and your significant other can unwind in a private, red cedar sauna or soak in a hot pool while admiring breathtaking views of the New York City skyline at Winter Spa. The William Vale's Winter Spa provides a warm, Nordic-inspired wellness experience. Five cedar saunas and two hot baths make up the outdoor terrace's al fresco pop-up spa, where you can unwind in a tranquil urban oasis while sweating out the year's tension.
Read more about The William Vale Winter Spa. 
13. Spend an evening at the sixties-themed TWA Hotel
Get dressed up in your most stylish 1960s outfit and head over to the fabulously extravagant TWA Hotel at JFK to experience a Mad Men-like ambiance. The 512 guest rooms in Eero Saarinen's iconic 1962 structure, which also feature views of JFK's runways, a Jean-Georges Vongerichten restaurant, a rooftop jacuzzi, and an observation platform, exude '60s cool. A weekend getaway with your significant other is made more enjoyable by this distinctive stay. Celebrate the sixties at this NYC hotel.
Learn more at TWA Hotel. 
14. Stroll through the New York Botanical Gardens
A leisurely stroll through the New York Botanical Gardens in the spring is one of the most romantic date suggestions in NYC. Because of the 250 acres of lush vegetation and blooming flowers, this park is undoubtedly among the finest in all of New York City. Visit the 50-acre forest, the native plant garden, and the rose garden to stop and smell the flowers while learning about New York's native plants. If you schedule it right, you might even get to go to one of the bar cart nights! Then, while enjoying live music and cocktails, you and your date can admire the lovely displays.
Learn more about the New York Botanical Gardens. 
15. Plan a food tour
You can always arrange for you and your companion to go on a food tour if you want to try foods from all over the globe but do not want to make them yourself. There are so many different food tours in New York City, in fact, you will undoubtedly discover one that appeals to your individual tastes. The Little Italy food excursion is a well-liked choice among locals and visitors alike. You can taste everything, including freshly made ricotta cheese, warm pizza, and bread topped with prosciutto during the two-hour event, which costs about $50 per person.
Check out a list of NYC food tours. 
16. Work together to solve an escape room at Escape the Room NYC
New York City is home to hundreds of escape rooms, but one of the local favorites is Escape the Room NYC. You can actually try a variety of themed escape room experiences there, including ones set in a primary school classroom, a prison break, and an art heist. A five-star review from 2,000+ users on average attests to how excellent this escape room is. Choose a theme that piques your interests, then spend some time with your honey thinking through the best ways to solve these challenging and fun puzzles to successfully escape.
Learn more about Escape the Room New York City. 
17. Watch a movie under the star at Bryant Park
At Bryant Park, there is always something to do, no matter the season. For instance, every summer, Bryant Park offers free Monday night movie shows. These frequently include enjoyable favorites like Mrs. Doubtfire, Clueless, and Moulin Rouge. All that is left to do is bring a blanket for you and your companion to rest on and visit the Breads Bakery kiosk for some delectable chocolate babka for dessert. Since you can enjoy a picnic under the stars while viewing a fun movie, this is without a doubt one of the best and most affordable New York City date night suggestions on this list.
Learn more about Bryant Park. 
18. Visit the Empire State Building
The Empire State Building is known to be overly popular and touristy. But if you are visiting the city for the first time, this incredibly historical spot is also a fantastic date location and one of many excellent New York City date night options. The Empire State Building has become known as the "Capital of Romance" thanks in large part to Hollywood, where it has appeared in hit films like An Affair to Remember and Sleepless in Seattle. Take in the breathtaking 360-degree views of the city from the 102nd level. Being there after 9:00pm is less crowded, though sunset views are especially breathtaking.
Purchase your tickets now for the Empire State Building. 
Conclusion
Ultimately, New York City is arguably among the most stunning places on earth. In the city, there are numerous ways to win your sweetheart over, including breath-taking views of the skyline, romantic strolls through parks, opulent spa resorts, and of course, incredibly romantic restaurants. If you are having difficulty deciding what to do for your next date, we have compiled a list of the top things to do in NYC with a significant other.
Whether they are basic date ideas or uncommon NYC experiences, these romantic pursuits will fan the fires of love. You and your significant other will soon be leaving on a quick love vacation that includes couples' massages, cooking classes, and new adventures.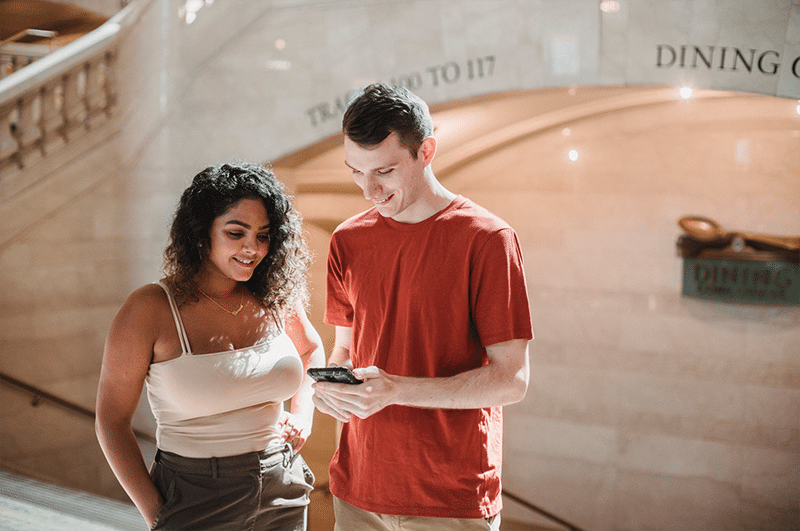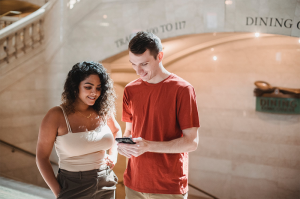 FAQ
What can you do on a day date in NYC?
The city of New York never sleeps, and the days are just as busy as the evenings. In NYC, there are a ton of fantastic daytime date options. The most popular ideas are helicopter rides, taking cooking classes, and spending the day at the spa.
How to plan a successful date in NYC?
Planning ahead is key to having a good date in New York City. Consider your shared interests and try to reserve the activity far in advance. Keep in mind that the city is always busy and that many people undoubtedly have the same idea as you. A lot of disappointment can be avoided by making reservations in advance.