Here is our list of the top natural, non-toxic deodorants.
Non-toxic deodorant is a deodorant that uses natural ingredients like coconut oil, cornstarch, arrowroot powder and other recognizable components instead of ingredients that block your pores to reduce the moisture and smell produced by the armpits. Switching to a natural deodorant can feel like a major step for anyone who has relied on these products for their entire lives; however, we have curated a list of some of the best all-natural deodorants on the market today to help you narrow down your search.
These products are similar to all-natural shampoos, non-toxic conditioners, and nail polish with non-toxic ingredients.
This list includes:
Eco-friendly deodorant

Roll-on deodorant

Natural deodorant for men

Deodorant for sensitive skin

Long-lasting natural deodorant

Affordable natural deodorant

Unscented natural deodorant
Let's get into it!
List of Natural, Non-Toxic Deodorants
From long-lasting natural deodorant to affordable natural deodorant, the list below will help you decide what all-natural, non-toxic deodorant is best for you.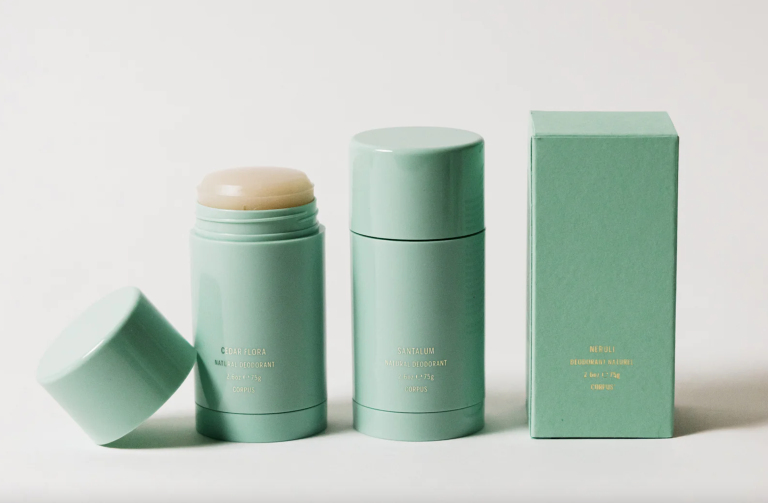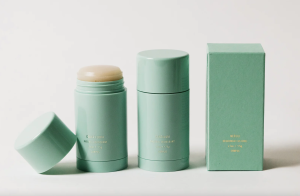 1. Corpus Natural Deodorant
No talc, no baking soda, and no aluminum is allowed at Corpus Naturals. Instead, this eco-friendly company employs tapioca starch to their deodorant to absorb moisture under your pits and plants ingredients to reduce BO. Plus, this all-natural product includes opulent scents of rose, citrus, and wood to leave a lovely, lingering aroma. Corpus deodorant is available in a few distinct scent profiles that are comparable to those of your finest perfume. Surely you think a stick of deodorant is not the most classy or expensive skincare item, but this product should serve as sufficient evidence that you are mistaken.
See more about this product at Corpus Naturals.  
2. Weleda Citrus Deodorant 24-Hour Roll On
This Weleda Citrus formula applies just like a more traditional roll-on product you may be used to, making it great for those who may be new to all-natural deodorants. With fragrance derived from natural essential oils, Weleda Citrus Deodorant is free from parabens, phthalates, and animal products and is effective for 24 hours or more. You will smell clean and natural, like a lemon-and-orange grove in the sun.
Learn more about this deodorant at Weleda. 
3. Meow Meow Tweet Grapefruit Baking Soda free Deodorant Stick
Meow Meow Tweet's deodorant is packaged in an all-paper container, meaning it can be easily composted or recycled and contains no plastic. The key ingredient in all of Meow Meow Tweet's deodorants is arrowroot powder, which is combined with coconut oil, shea butter, and cocoa seed butter to make the product easier to apply and gives it a smoother smell. Lavender Bergamot, Rose Geranium, and Cedar Spruce are a few of the other fragrances in the same collection. Additionally, we appreciate the company's certification as a B Corp and as a climate neutral business.
Check out this deodorant at Meow Meow Tweet. 
4. Type: A Aluminum-Free Deodorant
The Type: A Aluminum-Free Deodorant is designed to start working when you start sweating. Furthermore, this uniquely created product will not stain clothing and provides long-lasting stench protection with a time-release action. However, people who are sensitive to baking soda should stay away from this formulation. The Type: A Deodorant applies smoothly rather than grainy, which is sometimes a problem with baking soda-containing personal care products. Beeswax is an ingredient that some vegans opt to avoid, so be aware that beeswax is present in this composition. Type: A is recognized as being carbon neutral, which implies that any emissions of carbon dioxide that occur from the production of their goods will be compensated for by financial investments that store an equivalent volume of carbon. This financial compensation strategy is used by businesses to slow climate change.
See more about this deodorant at Type: A Deodorant.
5. Native Coconut & Vanilla Deodorant
Men's deodorant sticks from Native have baking soda as a primary ingredient in addition to tapioca starch for dryness, cyclodextrin to release smell gradually throughout the day, shea butter for moisturizing, and magnesium hydroxide to further kill odors. Native has a new line of paper-wrapped deodorant sticks that are plastic-free and come in both seasonal and traditional smells.
Learn more about this deodorant at Native. 
6. Schmidt's Deodorant Stick
In addition to being free of parabens, propylene glycol, phthalates, and synthetic fragrance, Schmidt's natural deodorants also don't contain baking soda, which can irritate skin for some people. The brand offers a number of options, like Rose and Hemp, Jasmine Tea, Coconut Pineapple, and more, if you have sensitive skin and prefer a subtle aroma but don't want to use the unscented version.
Read more about this product at Schmidt's. 
7. Each & Every Aluminum-Free Deodorant
Each & Every, which is designed for sensitive skin, uses dead sea salt instead of baking soda. Nearly all of the scents have received the Environmental Working Group's endorsement, and the formula is free of parabens, gluten, and synthetic fragrances. The packaging made of plants is produced from sugarcane. Lavender and Lemon, Cedar and Vanilla, Cannabis and Green Tea, and Cardamom and Ginger are just a few of the line's intriguing scent combinations. Additionally, a scent-free alternative is available, or you can get a minis pack to sample them all and decide which one you like best.
Check out this deodorant at Each and Every. 
8. Tom's of Maine Natural Deodorant Stick
This affordable choice guarantees continuous odor prevention all day long. There is no learning curve for application because the packaging is identical to that of traditional stick deodorant, and Tom's deodorants are available at many drugstores around the country. The Environmental Working Group gives the unscented version great marks for the safety of its ingredients. In addition to being preservative-free, Tom's of Maine deodorant is also devoid of phthalates, sulfates, parabens, artificial colors, and cruelty. Tom's does contain propylene glycol and glyceryl laurate, which some individuals want to avoid.
View this product at Tom's of Maine. 
9. Primally Pure Deodorant
The only artificial fragrances used in the deodorants from Primally Pure are organic essential oils. Primally Pure Deodorant lacks talc and parabens and instead includes baking soda. The recipe works well with sparing use, which reduces the amount of residue left on your clothing. You can recycle the tube if your neighborhood recycling centers accept level 5 plastics.
Learn more about this deodorant at Primally Pure. 
10. Freedom Unscented Natural Deodorant
Try Freedom's Unscented Natural Deodorant if you are extra sensitive to scents. While this deodorant is effective in preventing odors, it can also have a bit of a gritty texture that soon dissolves when it comes into touch with your body heat. Aluminum, parabens, phthalates, and artificial perfumes are not present in the composition. Freedom's products are Leaping Bunny Cruelty-Free and Vegan certified. The deodorant is sold in a recyclable cardboard and plastic tube that may be easily detached. Freedom provides scented options, such as Rose and Lavender.
See more about this unscented deodorant at Freedom Deodorant. 
11. Drunk Elephant Sweet Pitti Deodorant Cream

There is no surprise that cult-favorite clean skincare company Drunk Elephant would produce a deodorant so effective it is like a full skincare routine for your armpits. Mandelic acid, arrowroot powder, and shea butter are all included in the cream's recipe, which targets all the important areas while gently eliminating bacteria that causes odor.
Read more about this deodorant at Drunk Elephant. 
12. Hello Sweet Coconut Deodorant with Shea Butter
Hello's Sweet Coconut Deodorant with Shea Butter is an all-natural deodorant intended to last for 24 hours, which is rather impressive for a pure, aluminum-, baking soda-, and talc-free formulation. Anar Mikailov, MD, a board-certified dermatologist, advises using this all-natural deodorant because it is "formulated with absorbents like arrowroot powder and rice bran wax to keep the pits dry." Along with coconut oil and shea butter to maintain the smoothness of the underarm skin, Sweet Coconut Deodorant also contains natural deodorizers like magnesium and tea tree oil.
See more about this natural deodorant at Hello Products. 
13. Caudalie Vinofresh Natural Stick Deodorant
This Caudalie deodorant, which works outside of the nine-to-five, is recommended by board-certified dermatologist Ranella Hirsch, MD. With a combination of prebiotic grape water and eucalyptus, you will not need to worry about a sticky buildup or film on your clothes with this clear stick of natural deodorant, which also provides 24-hour protection.
View this deodorant at Caudalie. 
14. Nécessaire's The Deodorant
Even if it might be a bit exaggerated to describe a natural deodorant as "trendy," if we are talking about this one from Nécessaire, then the idea is not far from the truth. Plus, as the name implies, The Deodorant lives up to the hype. Nécessaire's formula uses a mild mixture of lactic and mandelic acids to combat odor, as well as kaolin, silica, and zinc to keep your pits dry.
Check out this product at Nécessaire. 
15. PiperWai Natural Deodorant Stick without Aluminum, Activated Charcoal
Natural deodorants, like this one from PiperWai, frequently contain charcoal, which is the same component found in face masks that absorb extra oil from your pores. This deodorant stick helps absorb sweat, fight odor, and keep you feeling dry but moisturized throughout the day. The formula also contains shea butter, tapioca starch, and coconut oil.
Learn more about this deodorant at PiperWai. 
16. Alaffia Everyday Shea Dry Finish Deodorant, Unscented
For individuals who do not want their deodorant to overpower their other fragrances, Alaffia Everyday Shea Dry Finish Deodorant is yet another good choice with charcoal that is also unscented. This natural deodorant is well-rounded and effective thanks to the shea butter, coconut oil, and arrowroot powder.
Read more about this deodorant at Alaffia. 
17. Kopari Beauty Natural Aluminum-Free Coconut Deodorant
People everywhere constantly turn to this Kopari deodorant because it works well and is not simply a backup. When all other options fail, you can fall back on this secret weapon, in our opinion. Saccharomyces ferment filtrate, a yeast ferment, is used in this deodorant as a natural deodorizer which is also aluminum-free. Probiotic enzymes are abundant in the formula and help to eliminate germs that cause odors. Additionally, the natural, aluminum-free deodorant has coconut oil in the formulation to make application easier.
See more about this natural deodorant at Kopari Beauty. 
18. Play Pits Queen Natural Deodorant
Queen Natural Deodorant by Play Pits is an all-natural deodorant that not only masks the stench of BO with the lovely scents of lemon, amber, and jasmine, but it also aids in moisture absorption due to the formula's ingredients of maize starch, kaolin clay, and baking soda, which absorb perspiration without clogging pores.
View this deodorant at Play Pits. 
19. Hey Humans Natural Deodorant Rosewater Ginger
If you want a cheap, natural deodorant you can purchase at the drugstore, look no farther than this $5 deodorant—the winner of the 2021 Cosmo Beauty Award from Hey Humans. The all-natural solution is packaged in a recyclable paper tube and does not include any propylene glycol, aluminum, or silicones. Do you still remember those push-pop popsicles? That is how this uniquely designed product operates.
Check out this award-winning deodorant at Hey Humans. 
20. Kosas Chemistry AHA Serum Deodorant
The Kosas Chemistry AHA Serum all-natural deodorant is strong enough to endure a sweaty, stinky workout while still being calming enough for delicate skin. The blend of alpha hydroxy acids (AHA) in this recipe, which exfoliates bumps, brightens discoloration, and, most crucially, lowers the pH of your pits to stop odor-causing bacteria from totally thriving, is the formula's star.
Learn more about this product at Kosas. 
Conclusion
Finally, you are not alone if you have used natural deodorant in the past and noticed that you were more smelly than usual. Natural deodorants may take some time for your skin to become used to. This is because you've cleared up the obstructions in your pores and are now beginning to sweat some of the metal and other components out. Even if you might smell particularly bad, your natural deodorant is still likely doing its job. Your body is just detoxifying from all the years of using a deodorant that has synthetic ingredients. Plus, not all formulas are created equal, so the list above should help you find a formula that works for you.
As more people try to make their self-care practices more environmentally friendly, the use of natural deodorant is on the rise. Many people prefer to stay away from traditional antiperspirant compositions with aluminum as well as other synthetic components, despite the fact that research has not conclusively linked them to breast cancer.
FAQ
What is natural deodorant?
Natural deodorants often utilize softer chemicals and smells that are generated naturally. Unlike antiperspirants, which block sweat glands and reduce sweating, natural deodorants do neither. Instead, these products aid in odor neutralization and can accomplish this in one of two ways: either by eliminating the microorganisms that cause odors or by adding fragrance to cover up the aromas.
What are the benefits of natural deodorant?
A few of the key benefits of making the switch: Natural deodorants generally contain ingredients suitable for sensitive skin, are free of ingredients known to cause irritation or reactions, like parabens and artificial fragrances, and can be free of aluminum, which some research has linked to breast cancer.
What is the difference between all-natural deodorant and antiperspirants?
Simply put, using natural deodorant allows you to perspire the way your body is designed to. Your sweat glands are blocked by antiperspirants containing aluminum. As a result, there is less odor from sweaty underarms. Natural deodorant aids in reducing offensive odor but does not stop you from perspiring.