Navigating everyday lives, much less practicing self-care is very difficult for all of us nowadays. Listening to constant influx from news and media while finding ways to fill our time, actually leaves very little time for us to think about ourselves and our own well-being.  We know that many of you might find it difficult to navigate through practicing self-care and wellness at home, especially now that you must transition your nail care routine to the comfort of your homes. Gel removal is perhaps one of the most time-consuming nail care routines for us gel lovers. The appearance of a gel manicure may be seamless and our manicures might be long lasting, but let's be honest having to remove gel can often be a nightmare. Especially if you have to do it yourself, at-home.
Our sundays community has reached out asking for advice on how to do gel removal at home. We always want to listen as well as support our community, so it's sundays to the rescue! Our founder, Amy Lin kindly shared her at-home gel removal techniques that take under 20 minutes to do (5 minutes prep and 10-15 minutes removal). You can watch the full video here or follow the steps below!
First, what you'll need is: buffer, file, wooden stick (the wooden stick has two sides: the pointed end could be used to clean nail polish outside your nails; the flat end is for cleaning nails and pushing back cuticles and gel polish), cotton pad/ cotton ball, nail polish remover, hydrating base coat, after gel healing base coat, aluminum foil and scissors, Ziploc bag (optional).
Tip 1: Use acetone based nail polish remover, otherwise it doesn't work to remove the gel.
Tip 2: Use a Ziploc bag to store all the waste after removing your gel to minimize the smell from the nail polish remover.
Tip 3: Fold the aluminum foil a few times and cut along the side to get equal size aluminum squares (you'll need 10).
Let's get started with the gel manicure removal!
Step 1: Use your nail file to gently file the top coat of your gel manicure. By doing that, you will save a lot of time in the nail polish removing process. But please remember to be very gentle when filing! After filing, you can also use the flat end of the wooden stick to push back the gel polish.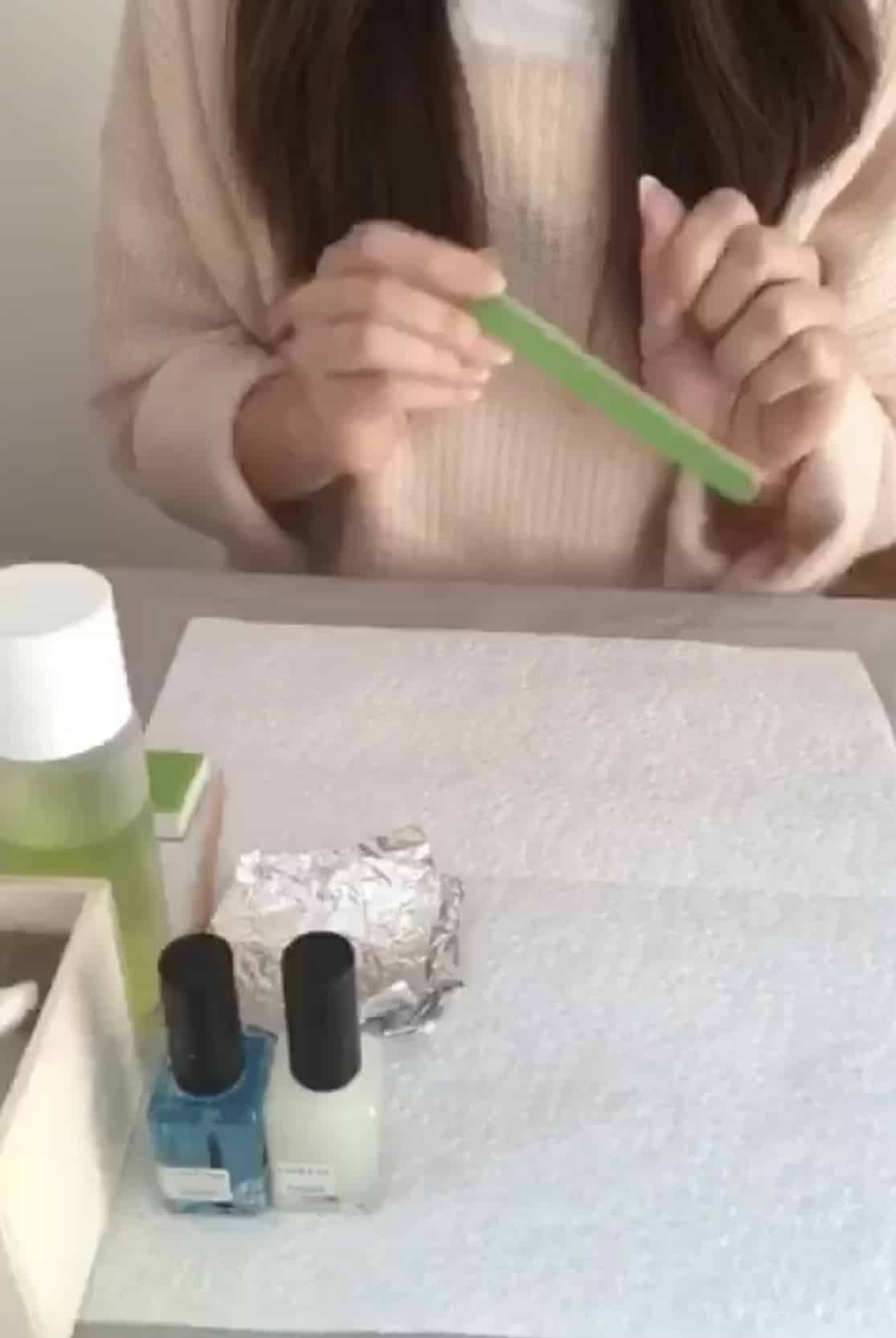 Step 2: Get a cotton ball, depending on how big your nail plate, divide the cotton ball in half. Then pour the polish remover onto the cotton ball trying not to completely soak it. Place the cotton ball on top of your nails, then use the foil paper to wrap it over the cotton to keep it in place. Do that for all your nails and leave it on for 10-15 minutes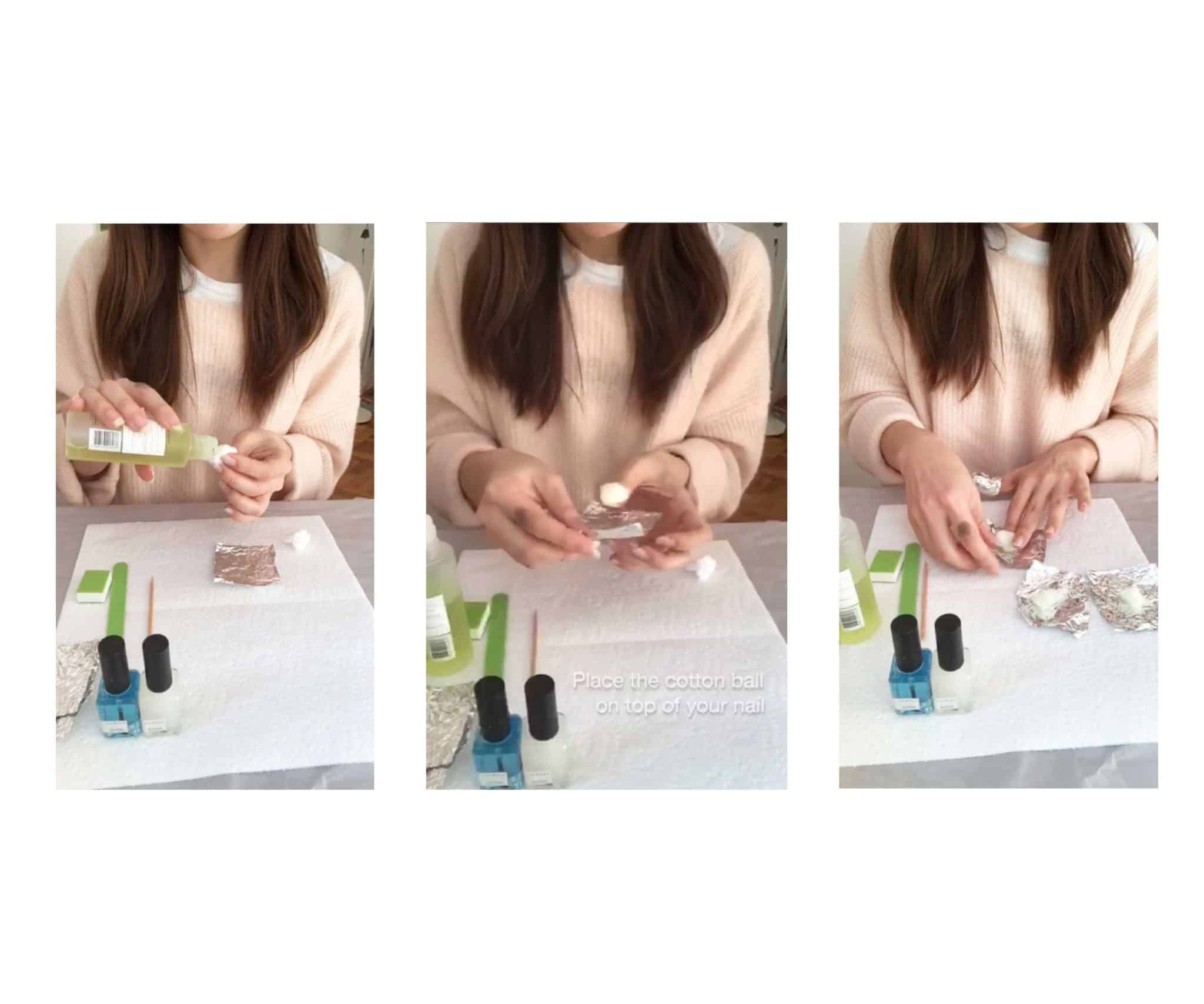 Step 3: After 10-15 minutes, remove the foil with the cotton ball and dispose of all the waste into the Ziploc bag and zip it up tightly.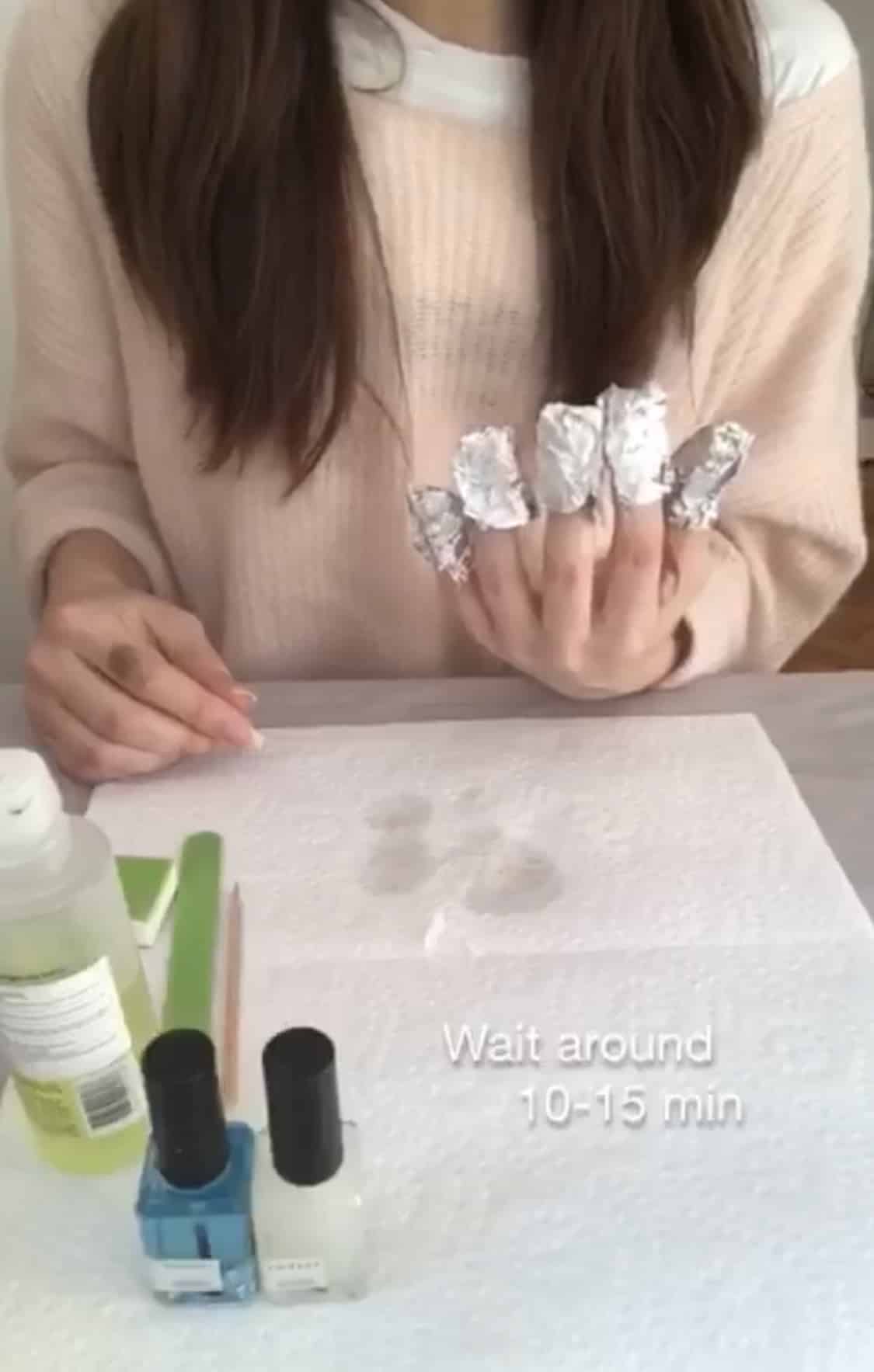 Pro tip: After removing the gel your nails might feel dehydrated. So we suggest washing your hands, But don't worry! This is just temporary.
Step 4: Use the hydrating base coat or the after gel healing base coat.  This is an important step for those who tend to use gel nail polish a lot, as their nails tend to be thinner. Gel unfortunately doesn't allow your nails to breathe. We created our , after gel healing base coat to help strengthen your nails and to keep them healthy! But make sure you clean your nail bed before applying!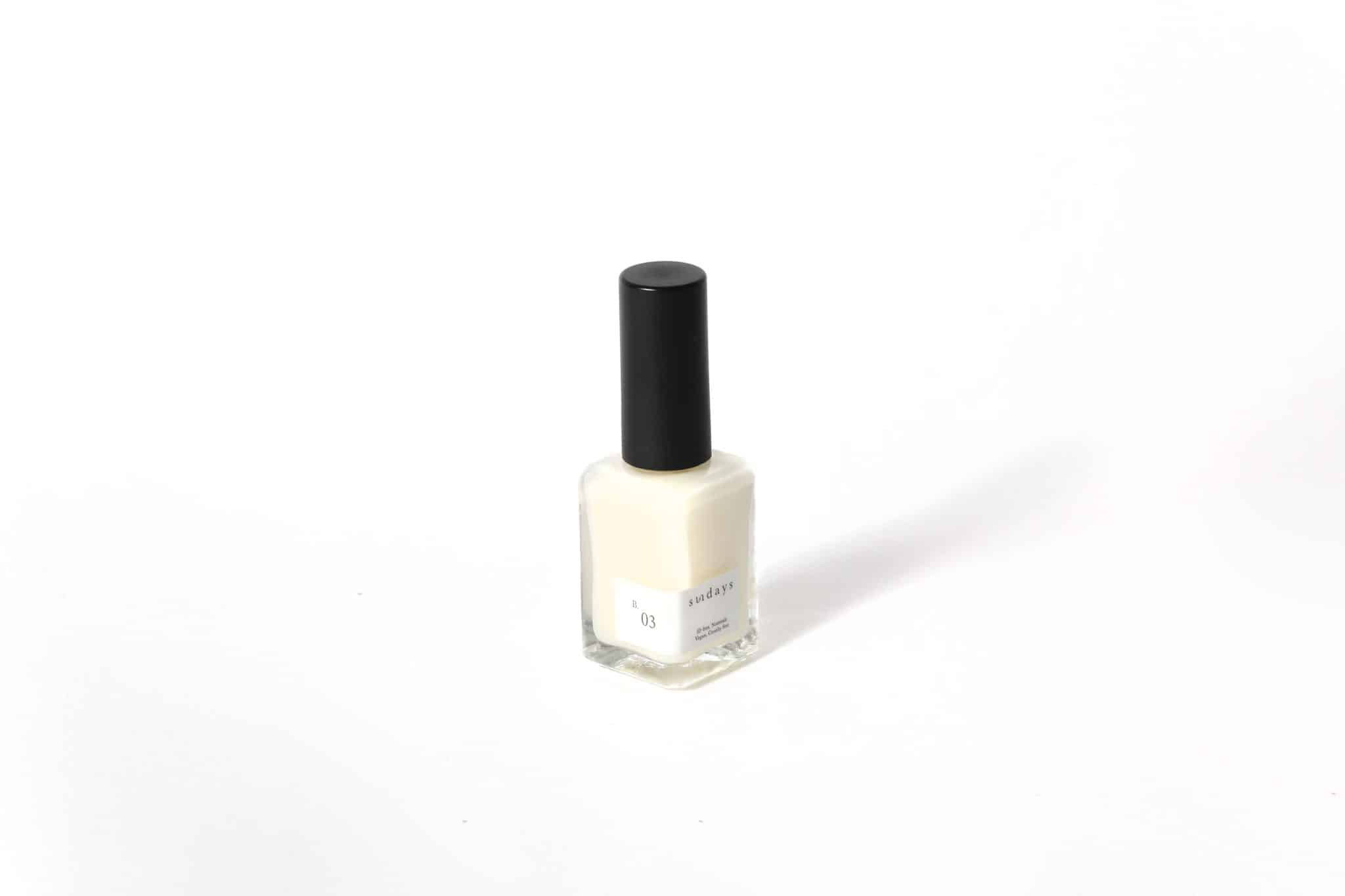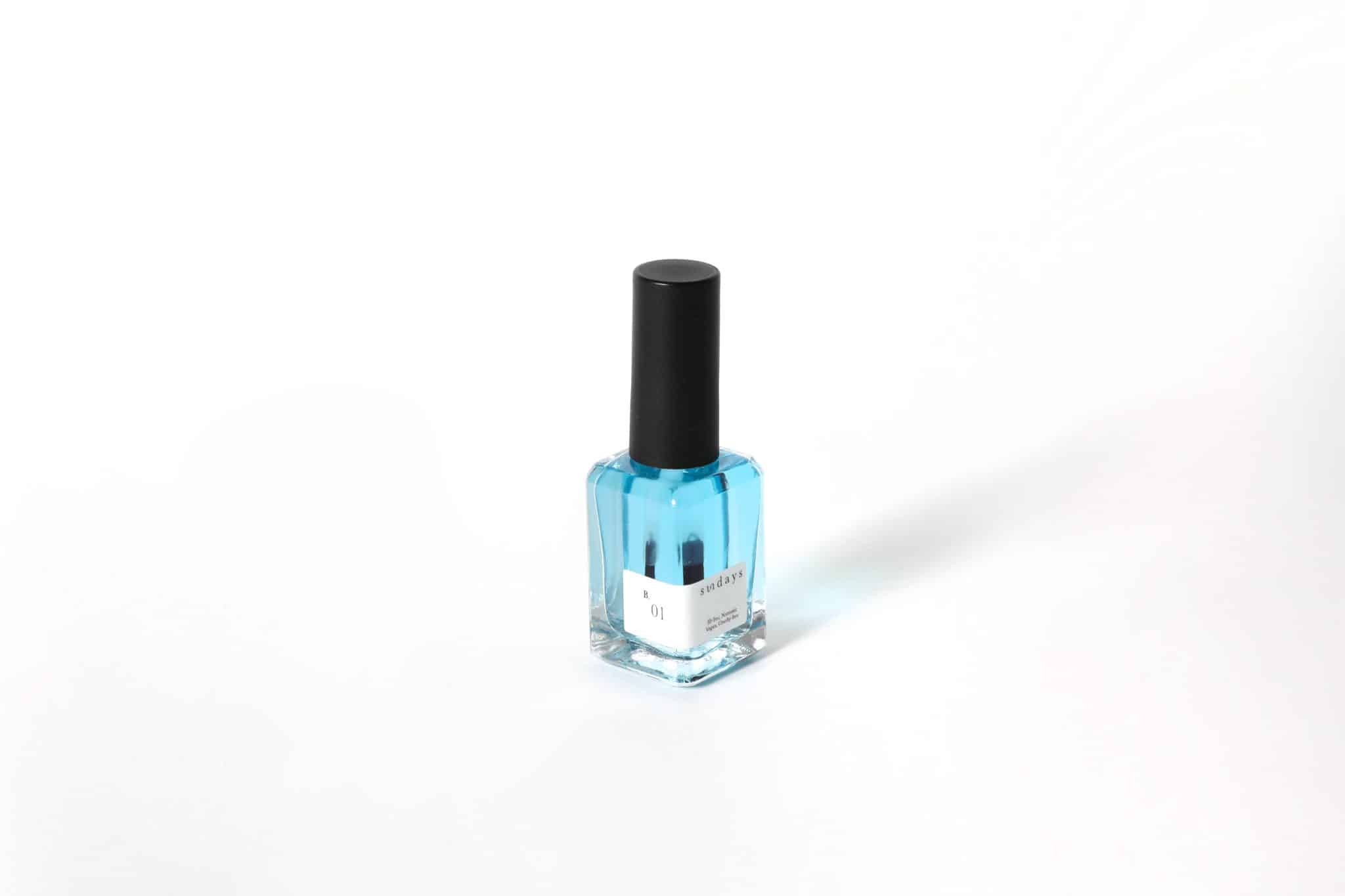 Pro tip: You might also want to use oil or hand lotion after your gel removal. We just launched our new cuticle serums CS.01 and CS.02. We recommend using the anti-bacterial CS.01 cuticle serum for those who tend to bite their nails and the hydrating CS.02 cuticle serum for those who need that extra hydration (it's non-greasy and lightweight so it goes perfectly with hand lotion). After applying your cuticle oil, you can use the flat end of the wooden stick to  push back your cuticles.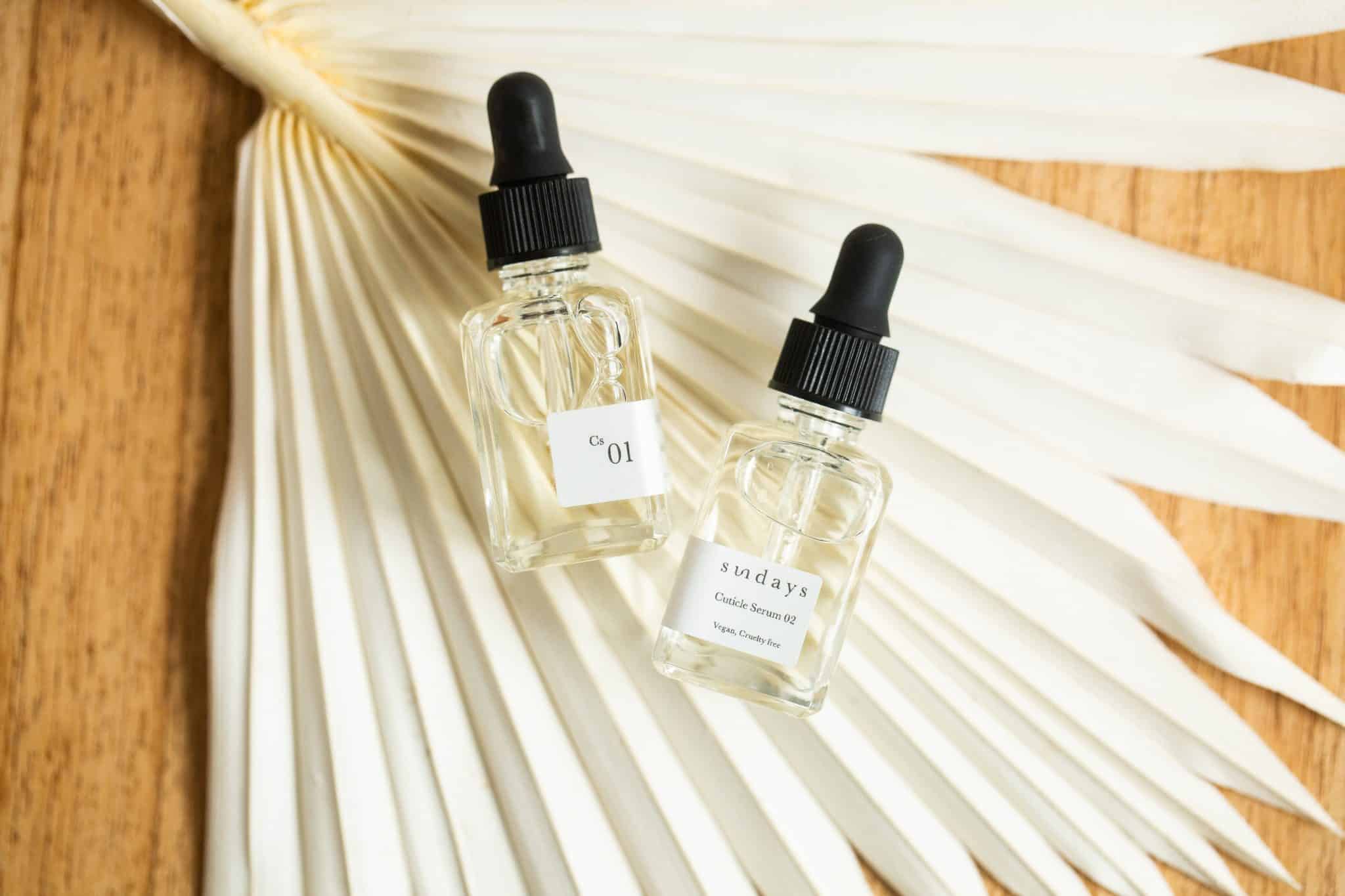 To make it even easier for our sundays community to do gel removal, we just released a non-toxic gel removal kit! With every kit purchase, you get our new cuticle serum! Our gel removal kit makes it easy to practice at-home wellness while giving a salon-quality finish.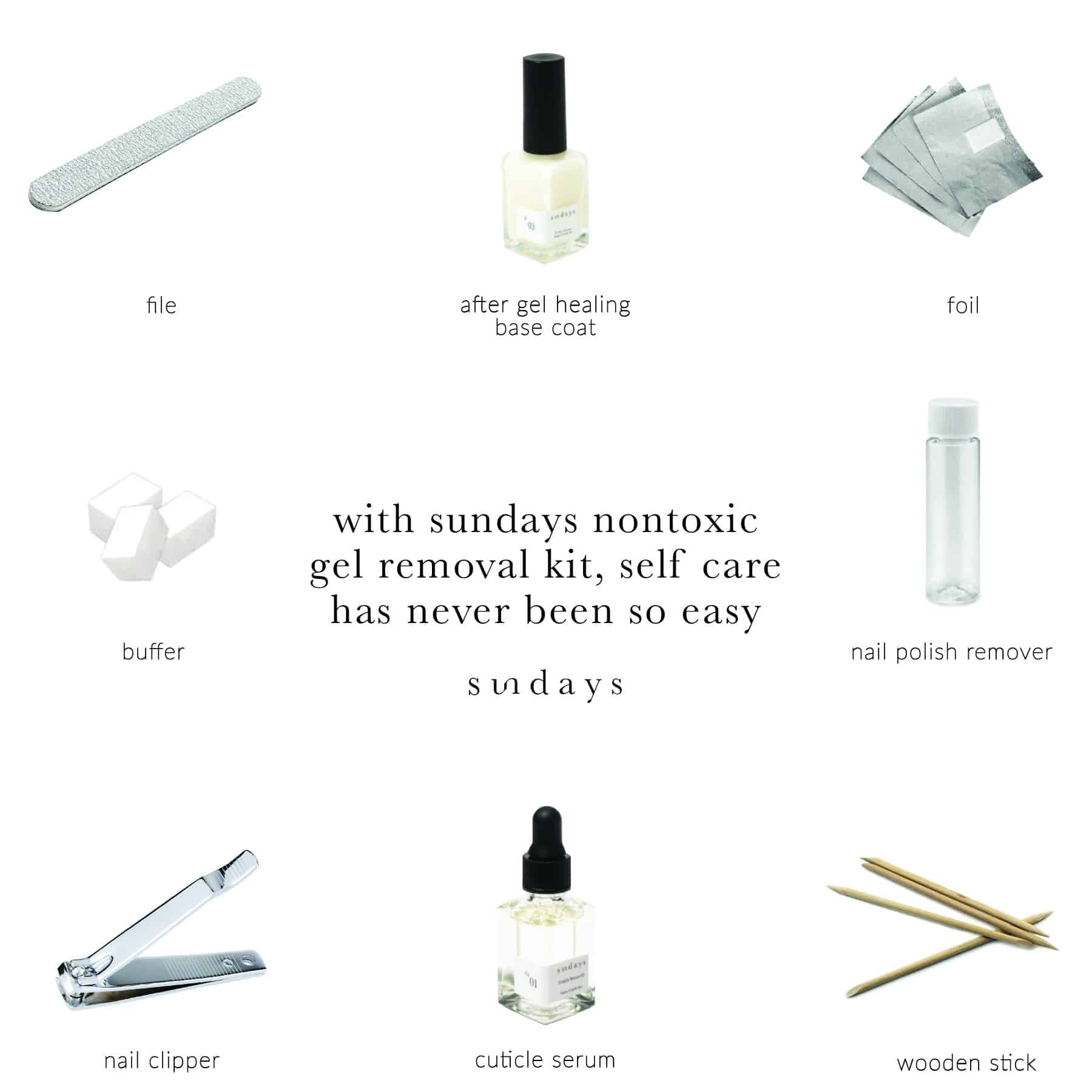 And you're done! Thank you for following Amy's easy steps for a non-toxic at-home gel removal! We are here to listen, so if you have any questions or requests for more at-home nail care tips, don't be a stranger and reach out to us at [email protected]. We wish you a safe and fun at-home nail care!
[wpcs id="23066″]