Here is our list of the top bachelorette party ideas in NYC. 
A bachelorette party is a celebration held for a woman who is about to get married. It is typically organized by the bride's friends or family members, and is often seen as a fun and memorable way to mark the end of the bride's single life and the beginning of her married life. Examples of  bachelorette party ideas can range from a night out at a bar or club to a weekend getaway or a spa day, and are often tailored to the preferences and interests of the bride-to-be.
This list includes:
Dinner bachelorette party ideas

Dance class bachelorette party ideas

Rooftop bar bachelorette party ideas

Spa bachelorette party ideas

Bike tour bachelorette party ideas
Let's get into it!
List of Best Bachelorette Party Ideas in NYC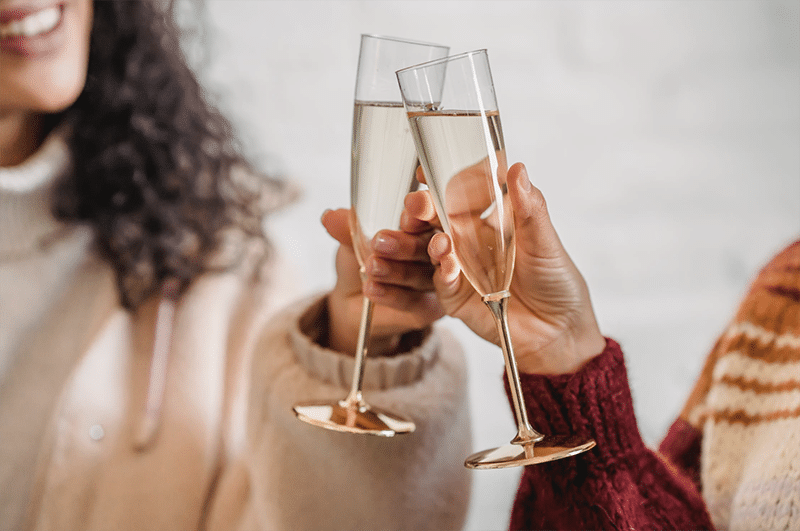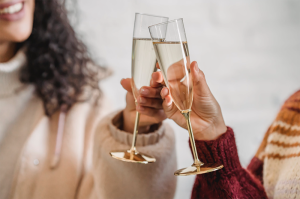 From fancy five-star dinners and rooftop bars to Brooklyn dive bars and fun karaoke spots, here are some great bachelorette party ideas for your group in NYC. 
1. Visit the rooftop bar at Westlight
Start the night off right by visiting one of New York City's many rooftop bars to sip on your favorite cocktails while enjoying the breathtaking views of the city skyline. Westlight is a stunning rooftop bar located in the Williamsburg neighborhood of Brooklyn, on the 22nd floor of The William Vale hotel. The bar offers breathtaking panoramic views of the New York City skyline, including the Empire State Building and the Freedom Tower. The cocktail menu at Westlight is one of the highlights of the experience. The menu features a range of creative and delicious drinks as well as scrumptious snacks, with something to suit every taste. From classic cocktails to unique and inventive concoctions, the mixologists at Westlight are known for their expertise and creativity. The food menu features a variety of dishes, including cheese and charcuterie boards, flatbreads, and small plates such as lamb meatballs, crab cakes, and fried chicken sandwiches.
Make your reservation now at Westlight. 
2. Relax with a spa day at sundays
A bachelorette party is not complete without visiting a spa of some sort! sundays is a boutique nail salon offering a unique and relaxing experience in a tranquil and calming environment, which is perfect for a bachelorette party. The salon is decorated with soothing colors and natural materials, creating a peaceful and relaxing atmosphere that will help everyone unwind and de-stress. sundays specializes in a wide range of nail care services, including manicures, pedicures, and nail art. This multifaceted salon also services additional beauty treatments such as waxing, lash lifts, and brow tinting. With so many options available, everyone in the bachelorette party can choose a treatment that suits their individual needs and preferences. Plus, sundays is committed to using non-toxic and eco-friendly products in their services.
Learn more about sundays. 
3. Take a group dance class at DanceBody
Get ready for the big night by taking a sexy dance class. From pole dancing to burlesque, there is a class for every bride-to-be in New York City. DanceBody is a great spot for a bachelorette party because classes are held in a fun, energetic atmosphere and designed to make you feel empowered, confident, and sexy. The instructors are highly trained and passionate about dance, and they use upbeat music and easy-to-follow choreography to create a party-like atmosphere that's perfect for a group celebration. Additionally, DanceBody offers a range of dance styles and levels, so you can choose a class that suits your group's preferences and skill levels. The studio also offers private group classes that can be customized to the group's needs and preferences, making it a great choice for a bachelorette party looking for a unique and memorable experience.
Sign up for a class at DanceBody.
4. Go on a sight-seeing bike tour with Central Park Bike Tours
See the city on two wheels by taking a bike tour. This is a fun and active way to see the sights with your girls while getting a little exercise in. Riding bikes through Central Park is a great way to bond and create lasting memories with your friends while enjoying the beauty and serenity of the park and exploring one of New York City's most iconic landmarks. Central Park Bike Tours are led by knowledgeable guides who will share interesting facts and stories about the park's history and architecture, adding to the experience. Additionally, Central Park Bike Tours offers a variety of bikes and sizes, including tandem bikes and children's bikes, so the entire bachelorette party can participate.
Learn more about Central Park Bike Tours. 
5. Indulge in a fancy dinner at the River Cafe
The River Cafe in NYC is a perfect option for a bachelorette party because of its stunning waterfront location in Brooklyn, with incredible views of the Manhattan skyline and the Brooklyn Bridge. This upscale restaurant offers a luxurious and romantic atmosphere that is perfect for celebrating a special occasion. The menu features New American cuisine with a focus on seafood, with dishes like oysters, lobster, and sea bass. The wine list is extensive and includes many fine wines and champagnes, making it easy to find the perfect pairing for your meal. Additionally, the River Cafe offers private dining rooms for groups, which is perfect for your group.
Make a reservation at the River Cafe.  
6. Sing your heart out at Gagopa Karaoke
With spacious private rooms, state-of-the-art sound systems, and an extensive selection of songs in various languages, Gagopa Karaoke is a great spot for a bachelorette party in NYC. The private rooms are perfect for your large group to have your own space to sing and dance without feeling self-conscious or interrupted by other guests. The sound systems at Gagopa Karaoke are top-notch, ensuring that the music and vocals sound amazing. Additionally, the vast selection of songs allows everyone to find something to sing, from pop hits to classic ballads, and even songs in different languages, making it a great option for a diverse group of friends. Lastly, the friendly staff and affordable prices make Gagopa Karaoke a great choice for a fun and unforgettable bachelorette party in NYC.
Learn more about Gagopa Karaoke. 
7. Go on a shopping spree at Fifth Avenue
Fifth Avenue is considered the "shopping mecca" of New York City, offering a vast selection of high-end designer stores, boutiques, and department stores. With iconic shops like Saks Fifth Avenue, Bergdorf Goodman, and Tiffany & Co., Fifth Avenue is the ultimate destination for luxury shopping, making it perfect for a bachelorette party that wants to splurge on designer fashion items or treat themselves to high-end beauty products. Additionally, Fifth Avenue is located in the heart of Manhattan, so it's easy to combine shopping with other activities like sightseeing, dining, and nightlife.
Learn more about Fifth Avenue. 
8. Take a cooking class with your gals at The Brooklyn Kitchen
A cooking class offers a fun and unique experience that combines cooking and socializing, and The Brooklyn Kitchen is one of the best spots in New York City. This culinary center in Williamsburg offers a variety of cooking classes for all skill levels, from basic knife skills to advanced culinary techniques. These classes are taught by expert chefs and provide hands-on experience, allowing you to learn new recipes and cooking techniques while enjoying time with your girls. In addition to cooking classes, The Brooklyn Kitchen also offers private events and team-building activities that are perfect for bachelorette parties. For example, you can book a private class and learn how to make pasta, create your own sushi rolls, or explore the world of BBQ. The team at The Brooklyn Kitchen will work with you to create a customized event that fits your group's needs and preferences.
Make your reservation now at The Brooklyn Kitchen. 
9. Explore a top-secret speakeasy at Please Don't Tell (PDT)
Please Don't Tell (PDT) offers a unique and intimate experience. Located behind a phone booth in a hot dog restaurant, PDT is a hidden gem perfect for a night of drinking and mingling with your girl friends. The cozy atmosphere, dim lighting, and inventive cocktails make for a memorable and fun experience. The bartenders are skilled and can even create custom cocktails based on individual tastes. Overall, PDT is a great spot for a bachelorette party looking for a fun and unique night out in NYC.
Learn more about PDT. 
10. Laugh your butts off at Comedy Cellar
The Comedy Cellar is one of the best comedy clubs in the country. Tons of well-known comedians, including Kevin Hart, Dave Chapelle, and Sarah Silverman, have given performances at this legendary venue. The Comedy Cellar is THE spot to be if you're seeking a good laugh in New York City for your bachelorette party.
Read more about The Comedy Cellar. 
11. Head to Broadway for an unforgettable performance
The girls will never forget seeing a Broadway show together in New York City. It is the ultimate NYC experience, especially if you enjoy theater or simply feeling classy. Plus, you will have tons of shows to pick from as Broadway productions typically perform up to eight times every week. The bride, and her bridal party, will enjoy this exquisite, once-in-a-lifetime opportunity.
Check out the show schedule at Broadway. 
12. Visit the MET
New York City is home to loads of fantastic, internationally-recognized museums, so why would you not include one in your bachelorette party itinerary? The Metropolitan Museum of Art (the Met) is one of the world's largest and most comprehensive art museums. The Met houses a vast collection of art from around the world and across time, including ancient artifacts, European paintings, American art, and contemporary works. With over 2 million works of art spanning 5,000 years of human history, there is something for everyone to appreciate and enjoy. The museum also offers various tours, talks, and workshops, providing an enriching and educational experience for the bachelorette party. Additionally, the museum's stunning architecture and beautiful outdoor spaces, such as the rooftop garden, make for great photo opportunities and a lovely backdrop for a memorable day out with the gals.
Get your tickets for The Met. 
Conclusion
Overall, New York City is the perfect destination for a memorable bachelorette party. From rooftop bars with stunning views to luxurious spas and unique experiences like wine tasting classes, there is no shortage of fun and exciting activities to choose from. 
With so many options available, it is easy to customize the perfect bachelorette party that suits the bride-to-be's individual style and preferences. Whether you are a local or a visitor, New York City has something for everyone to enjoy and make the bachelorette party unforgettable. So gather your girlfriends, plan your itinerary, and get ready to celebrate in the city that never sleeps!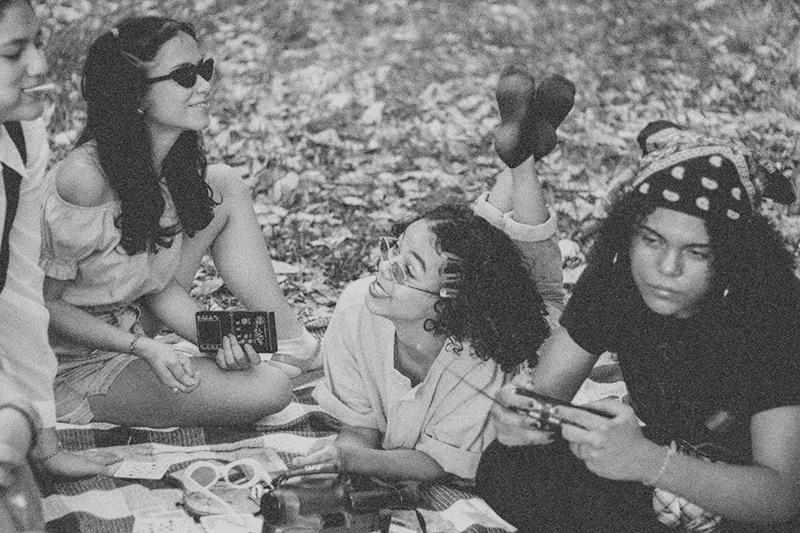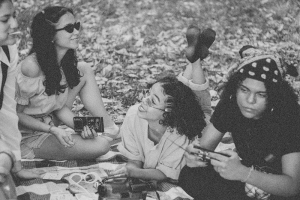 FAQ
Here are common questions and answers about bachelorette party ideas in NYC.
What types of activities and experiences are available for bachelorette parties in NYC? 
New York City offers a wide range of activities and experiences for bachelorette parties. From rooftop bars with stunning views, spa treatments, and wine tastings, to dance classes, shopping, and food tours, there is something for every type of bachelorette party. You can also customize your itinerary based on the bride-to-be's interests and preferences, making the experience unique and unforgettable. 
What is the best time of year to plan a bachelorette party in NYC?
The best time of year to plan a bachelorette party in NYC depends on the preferences of the bride-to-be and the activities that the group wants to do. Spring (March to May) and fall (September to November) are generally considered the best seasons to visit NYC, as the weather is mild and there are plenty of outdoor activities and events. However, summer (June to August) is also a popular time for bachelorette parties, as the city is full of energy and there are many outdoor rooftop bars, festivals, and events to enjoy. Winter (December to February) can be cold, but it can also be a great time to visit NYC for holiday festivities and indoor activities such as museum visits and Broadway shows.
How far in advance should I start planning a bachelorette party in NYC?
The amount of time needed to plan a bachelorette party in NYC can vary depending on several factors, such as the size of the group, the activities planned, and the availability of accommodations and reservations. Generally, it is recommended to start planning a bachelorette party in NYC at least 3-6 months in advance. This will allow ample time to secure accommodations, make restaurant and activity reservations, and coordinate transportation.