In the unprecedented times we are living in, it's easy to forget to take care of yourself. We are here to remind you to prioritize you and to practice self-care each and every day, however that may look to you. If you're finding it hard to find the time for your routine, we suggest scheduling a fun and relaxing self-care night with your partner or a friend. Making time for self-care with someone you love and care for is so fun and can bring your relationship to another level, as you're both taking care of your mind and body.
Our favorite self-care routine is nail care. Regardless of gender identity, refreshing your mani is an exciting way to reset your mood and energy for the week. Whether it be in the studio or at home, we believe that your mani routine should feel like a spa getaway.
Sometimes, what takes away from this desired level of pampering is the harsh smell of the chemicals found in regular polish and polish remover. Not only is it so important to use non-toxic products for your own well-being as well as that of those around you, but the soothing scents elevate your self-care routine. We've heard from our community that their partner's cannot stay in the same room as them when they're removing their polish because of the offensively overpowering odor that acetone-based remover gives off. This is exactly why our soy polish remover was created, it's refreshing aroma has deemed it "spring in a bottle". Our soy polish remover is infused with grapefruit essential oils, so you will actually enjoy the process of removing your polish.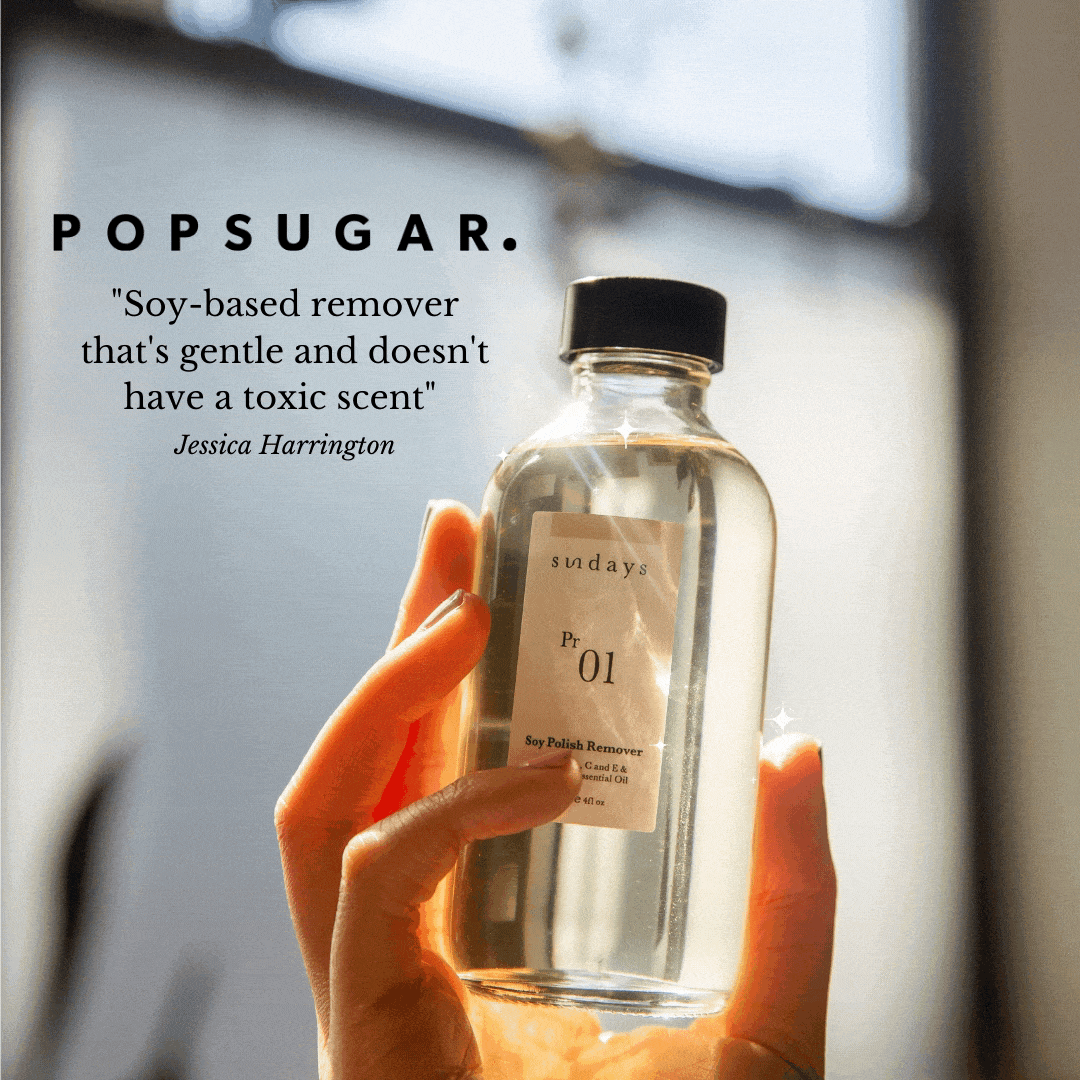 Cleaning the canvas of your nails is a vital step in your routine, and starting off a new mani should be nourishing and gentle. Our polish remover uses the active ingredient Methyl soyate (aka soybean oil methyl ester, or methyl oleate/palmitate/linoleate/stearate) to help you get every bit of nail polish off. Not only is our soy polish remover infused with grapefruit essential oils for a relaxing scent, but it's also made with vitamin A, vitamin C, and vitamin E to hydrate, nourish, and protect your cuticles and nail beds. No more white cast of dehydration when removing polish!
We wish you could smell our refreshing soy polish remover through your screen! Try implementing our soy polish remover into your next self-care night— your sense of smell and your partner will thank you!