You found our list of the best nail salons in NYC.
Nail salons in NYC are service businesses which specialize in nail health, care, and design in New York City. These businesses provide a variety of services including manicures and pedicures, with many alternatives, including acrylic, gel, shellac, long or short.
This list includes:
Health and well-being nail salons in New York City.

Nail art salons in NYC

All-natural, non-toxic nail salons

Relaxing nail salons

Modern nail salons

Luxury nail salons in Manhattan
Let's get into it.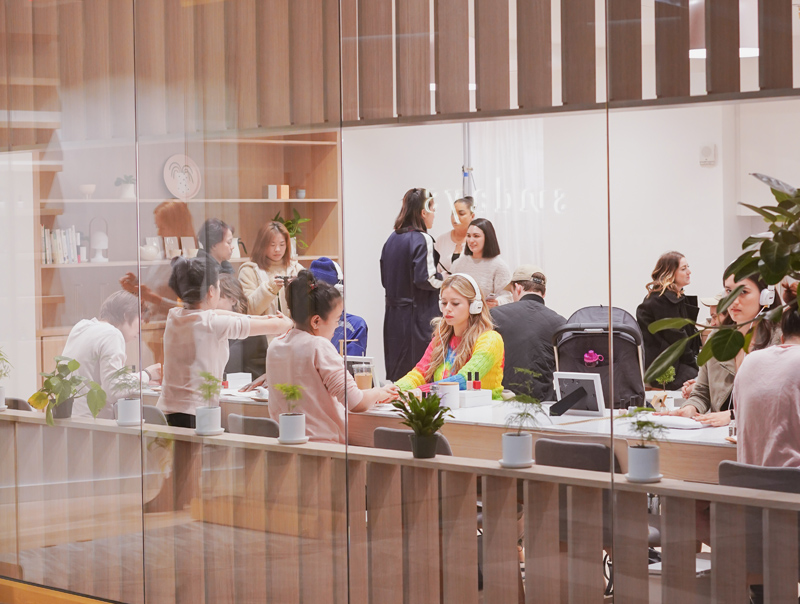 List of Nail Salons in NYC
From Chillhouse and Paintbox to Glosslab and Cote, check out some of the best nail salons in NYC below.
Sundays —

Sundays is a nail salon that emphasizes health and well-being. Many like to think of visiting the salon as a sort of self-care and a special gift to give themselves every few weeks, but Sundays does things a little differently. The salon gives customers the option to listen to a guided meditation while they get their nails done, which is unquestionably a phenomenal form of self-care. There are many natural colors and elegant wooden furnishings around the salon, which has a calming décor. When it comes to taking care of your nails, Sundays are filled with possibilities. If you feel like treating your toes, there are also pedicure options. On the nail menu, you can choose from nail art, gel manicures, and rose extract manicures, which aid with anti-aging, nail art options, and gel pedicures. Standard gel manicures start at $55, with nail art for the whole hand adding $30. 
Paintbox —

You will be greeted by stylish décor when you enter Paintbox on the Upper East Side, with white flowers, marble countertops, and cream-colored walls. In order to provide their customers with the best and most modern nail options, Paintbox offers a variety of seasonal nail designs and enjoys experimenting with color theory. Acrylic, hard gel, sculpting gel, and dip powder manicures are not available at Paintbox. On the natural nail, the company still has a wide range of different nail alternatives, including polish and soft gel. Paintbox offers single-color manicures, designs, bridal manicures, and luxurious manis. Costs range from $65 for a single color to $165 for the luxurious manicure.
Jinsoon Hand & Foot Spa —

Jin Soon Choi, a former runway artist, launched the Jinsoon salon. Choi launched her own salon shortly after deciding that she wanted to develop a distinctive nail polish line using non-toxic chemicals. In the Tribeca neighborhood, Jinsoon opened its doors in 2016. As soon as you enter the salon, you can tell that the decor has been designed to resemble an art gallery.  A well-lit room, white tables, and smooth, waved hardwood paneled walls will welcome you. Jinsoon not only has a salon in Tribeca, but also in the Upper East Side, the West Village, and the East Village. You can choose from a range of options on the nail menu, including polish, shellac, nail art, and accent nail art, which is a more complex style. Costs for a buff or accents range from $25 to $45 and are additional. 
Tenoverten —

Tenoverten likes to think of visiting the nail salon as an escape from the daily grind, a place you can go to for a couple of hours. The company doesn't utilize harsh fumes in any of their products or polishes, which also makes for a more enjoyable experience. You can genuinely spend a day treating yourself at Tenoverten since they not only provide manicure services but also waxing, hair removal, and brow shaping. You have the option of selecting a simple or a luxurious manicure when getting a manicure. Simple manicures cost as little as $28; luxurious manicures cost as much as $43.
Chillhouse —

A modern-style salon called Chillhouse provides services for the body, face, and nails. The bright green decor, several plants, and white tiled walls give the salon a stylish, boho vibe. You'll be happy to know that all of the nail care products used at Chillhouse are non-toxic, and the staff always makes sure to work in a fully cleansed environment. Options are offered, including the basic cool nail, which entails applying lotion and manicure polish as well as shaping the nails. You can choose the extra chill mani with gel if you'd like something a little bit more. Along with a hand cleanse and a massage, you will get everything that is included in a standard manicure here. The price for a basic manicure is $27, while an additional manicure will cost around $60. Moreover, nail art is an option, and you can choose your design from a lookbook. 
Vanity Projects —

A girly vibe will welcome you as soon as you enter Vanity Projects. Consider pink throw pillows, blooms, and glass countertops. Alencar Pinto established Vanity Projects in 2008; it first functioned as a pop-up until a salon finally opened its doors in 2013. Vanity Projects is unquestionably the manicure salon to visit if you love longer nails. You can choose from a wide range of acrylic or gel nail alternatives, as well as simple or intricate nail art, to give your nails a distinctive twist. If nail extensions aren't for you, the clinic also provides a straightforward manicure option. Simple manicures start at $70, and sophisticated gel extensions with intricate art cost $265. 
Akiko Nails —

The Lower East Side salon Akiko nails specializes in Japanese manicure techniques. Nutrients are buffed into your nail bed at this point, giving the polish a wholesome sheen. The salon provides conventional polishes, gel polish, extensions, and repairs for nails. The salon can also offer nail art services, with simple to sophisticated nail designs available. The technicians can create elaborate patterns, structures, and even faces if you want intricate nail art. Akiko is capable of doing anything. The cost of gel extensions with a solid color ranges from $15 for a quick nail trim and shape to $60 for the extensions and $50 for the color, plus any additional costs necessary.
Paintbucket —

If you want to indulge yourself to a day of pampering, visit Paintbucket. The salon is furnished with rose gold furniture, fuzzy pillows, LED signage, and marble counters, all of which give it a glitzy appearance. You can choose from a standard manicure, a signature manicure, a fast manicure, gel extensions, or a pedicure. Shape, prepare, and paint are the fundamental components of a mani. A trademark manicure includes a high-end polish, shaping, cleaning, and primping. A quick manicure only requires a shape and some paint. Preparation, application, shaping, and painting would be required for the extensions. If you are in the mood for a pedicure, you can select from the basic pedi or rapid pedi options, which use the same methods as their mani counterparts. 
Glosslab —

Glosslab is all about providing the most effective manicures, waterless pedicures, and salon sterilization. The company's motto is "Always on. Always presentable." This motto is because Glosslab thinks that looking your best makes you feel better about yourself, increases your confidence, and helps you become a better version of yourself. Via their distinctive membership choices, which few nail salons provide, the company embodies this maxim. You can choose to pay for this subscription service either semi-annually, quarterly, or monthly, and you will get unlimited manicures for the duration of your membership. The cost of the membership would be $115 per month if you chose to pay semi-annually, $125 per month if you chose to pay quarterly, and $135 per month if you chose to pay monthly.
Bisou —

Gel nails and nail art are Bisou's areas of expertise. Since these specialty manicures are their area of expertise, the company cannot provide pedicures or acrylics, but they do have a wide range of services that they may offer. For instance, the salon provides gel extensions if you still desire extensions, and you can choose from a variety of nail styles, including French, ombre, and simple or complex nail art. Prices for these products range from $65 for a single color to $230 for extensions with top-notch nail art. Small and detailed precise patterns like leafy blossoms or the marble look would be considered prime art. 
Cote —

A minimalist mani lover's paradise is East Village's Côte. The clean beauty retreat provides you a glass of rosé to enjoy while you are being attended to and uses only nontoxic, 10-free polish, with hues simply designated by number, rather than marketing catchphrases. We advise making an online appointment in advance because the space is small and intimate.
Hortus Nailworks

— Hortus Nailworks on the Lower East Side appears more like a greenhouse or plant store from the exterior rather than a nail salon. Nevertheless, as soon as you walk through the doors, you may choose from a wide selection of 10-free polishes and treatments, including the super-quick shaping-plus-polish also known as "the New Yorker" and the restorative ancient Himalayan pink salt bath and organic sugar scrub or "the works." When you depart, stop by the store to pick up some handmade fine jewelry or organic skin care products to go with your brand-new nails. 
Ph7

— At ph7, an eco-friendly Brooklyn nail salon with outlets in Fort Greene and Williamsburg, you can unwind with a cup of organic herbal tea and a nontoxic manicure. You will experience a sense of oneness with the earth throughout your entire treatment because of the cozy atmosphere that emphasizes natural wood and neutral colors. All treatments are 100% natural, whether you choose an organic essential oil cuticle treatment, a dead sea salt scrub, or a green tea milk soak.
The Laq Lab —

A Black women-owned nail salon, The Laq Lab, is the ideal representation of its art: colorful, sophisticated, and joyful. The salon is furnished with Barbie pink recliners, gold side tables, and neon signs. The salon offers services including traditional polish manicures and pedicures as well as nail repair, removals, gels, nail art, charms, rhinestones, and stickers. The salon specializes in Aprés Gel X, a long-lasting soak-off soft gel extension method that doesn't harm your natural nails. The Laq Lab is the place to visit if you like statement nails. Moreover, don't forget to take one of The Laq Lab's mouthwatering signature candles with you when you leave.
Base Coat at Nordstrom Beauty Haven —

A visit to Nordstrom's Beauty Haven in the American luxury retailer will introduce you to Base Coat, a Denver-based salon chain that specializes in 21-free nail polishes as well as manicure and pedicure services. Nordstrom is home to more than just a sizable roster of designer goods. There are plenty of soft gel alternatives and services for children aged 10 and under if you want to bring the kids. However, this is a fuss-free salon, and you are out of luck if you are looking for funky nail art.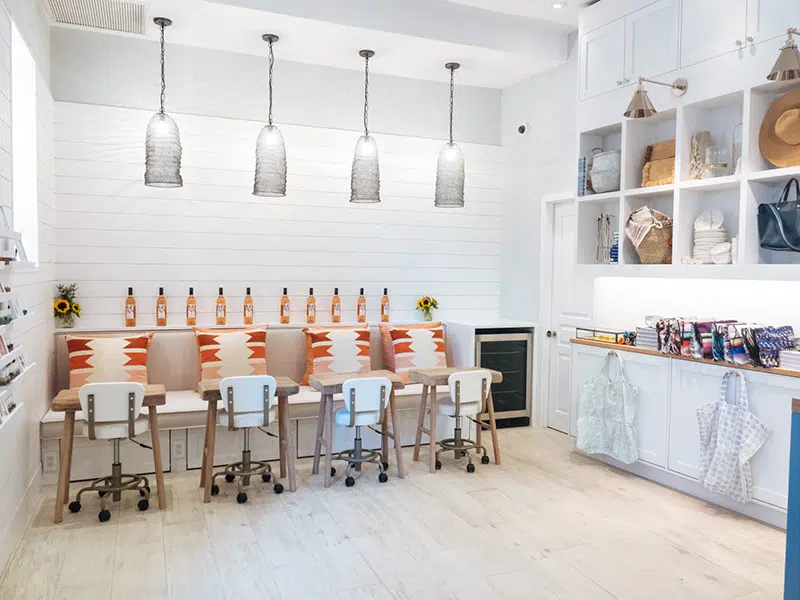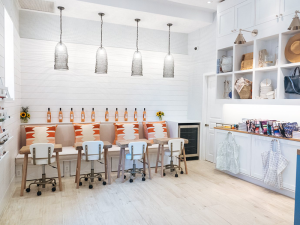 Conclusion
In New York City, there are a ton of fantastic nail salons from which to choose. With so many nail art possibilities, you can be sure you have the most distinctive nails in the city, whether you want long extensions or short gels.
All of the salons on the above list have helpful and knowledgeable technicians who can assist you in deciding what would fit you, even if you're unclear of what design or shape is best for you.
To provide you plenty of ideas for your next set of nails, all the salons have social media profiles featuring trendy nail art.