From unique costumes to bold, artfully applied Halloween makeup, you can go as subtle or as out-there as your heart desires. Either way, you'd be remiss to forget about Halloween nails. If you want some Halloween nail art ideas, look no further than this list. Scroll on for 13 Halloween nail ideas for 2023 that are a total treat for you – plus, we'll share a few tricks on how to achieve them, too!
1. Candy Corn Manicure
Let's start our list of halloween nail ideas with a cute and easy design that resembles an all-time favorite Halloween treat, candy corn. Simply layer a light yellow nail polish, a darker yellow nail polish, and then a white nail polish to achieve this style. But beware! Everyone is going to mistake your fingertips for a snack!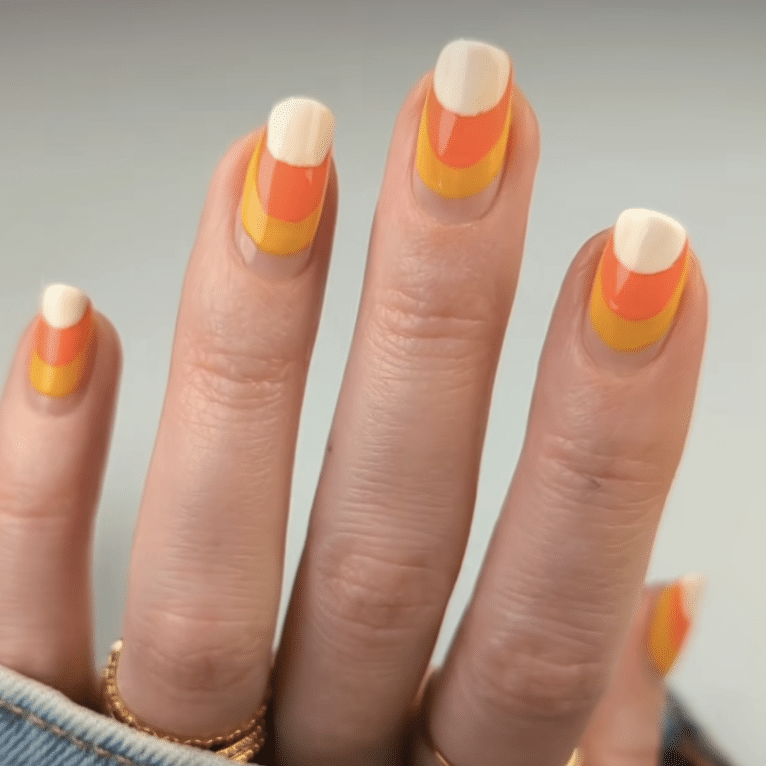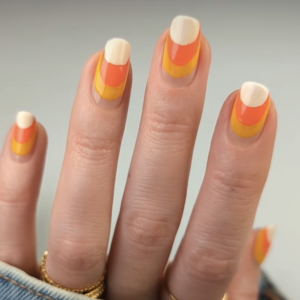 SOURCE: @tessa.lyn.nails / Instagram
2. Jack-O-Lantern Manicure
What is a more recognizable and iconic symbol for Halloween than Jack-O-Lantern faces? Nothing! Jack-O-Lantern nails give you a festive appearance and cause way less mess than carving an actual pumpkin. We love how the Jack-O-Lantern is an accent nail here, but it would be awesome to have a whole pumpkin patch with one on each finger too.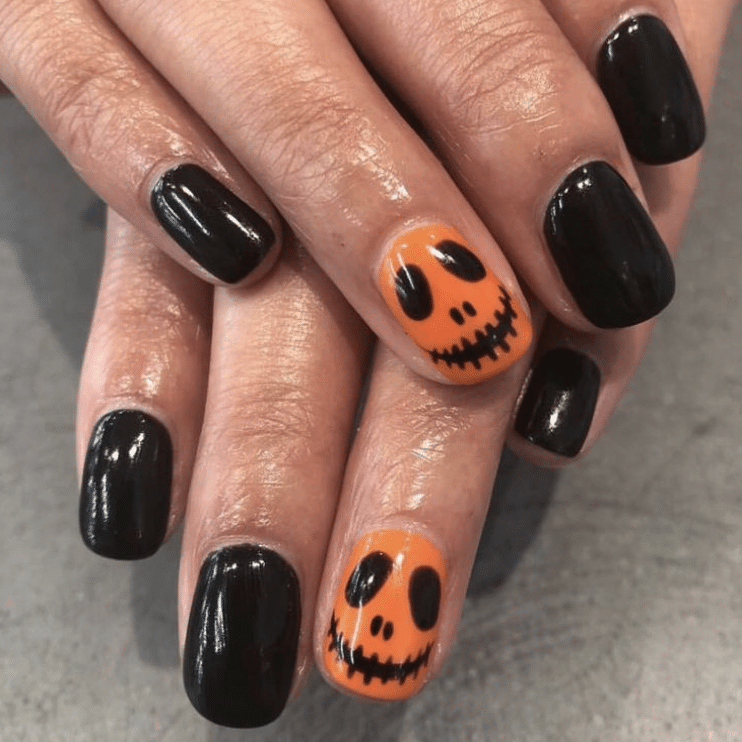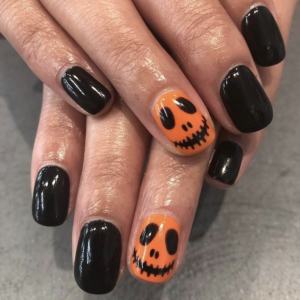 SOURCE: @thewnailbar / Pinterest
3. Bloody Manicure
A spooky take on a French manicure turns the design from chic to EEK! It's all the drama, but none of the pain. The red nail polish mimics blood dripping down a nude or white base. This design is completely customizable according to you, whether you want the blood to be bright or dark red, or to start at the tips or the cuticles.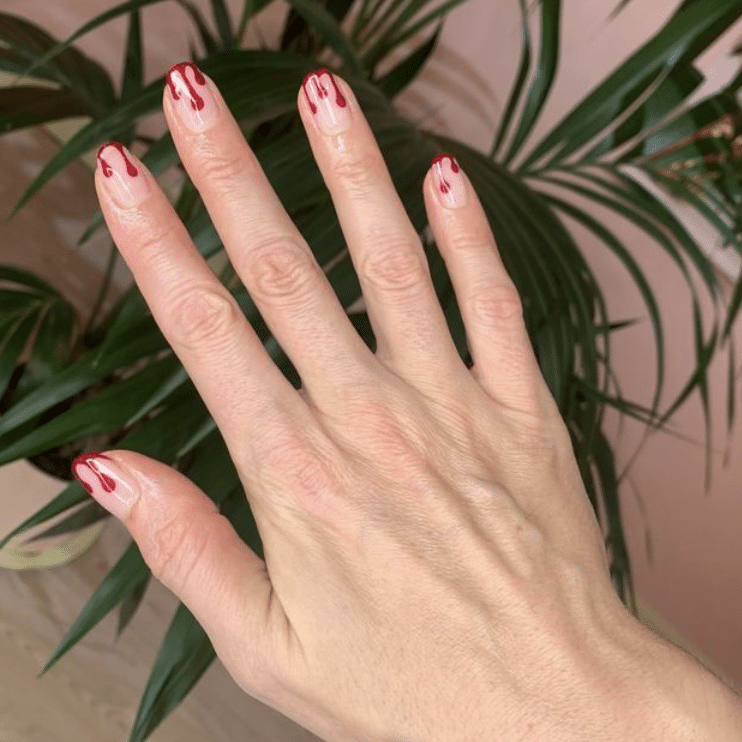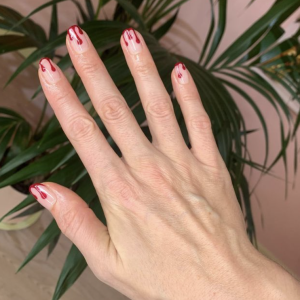 SOURCE: @thefinalnail / Instagram
4. Black Cat Manicure
Black cats are another popular symbol for Halloween, and they are oh so cute! We love how this simple design using just black and white nail polish could create such an adorable effect. This image shows the cats' heads sideways, but we love seeing reiterations where they are used to simulate a black French tip.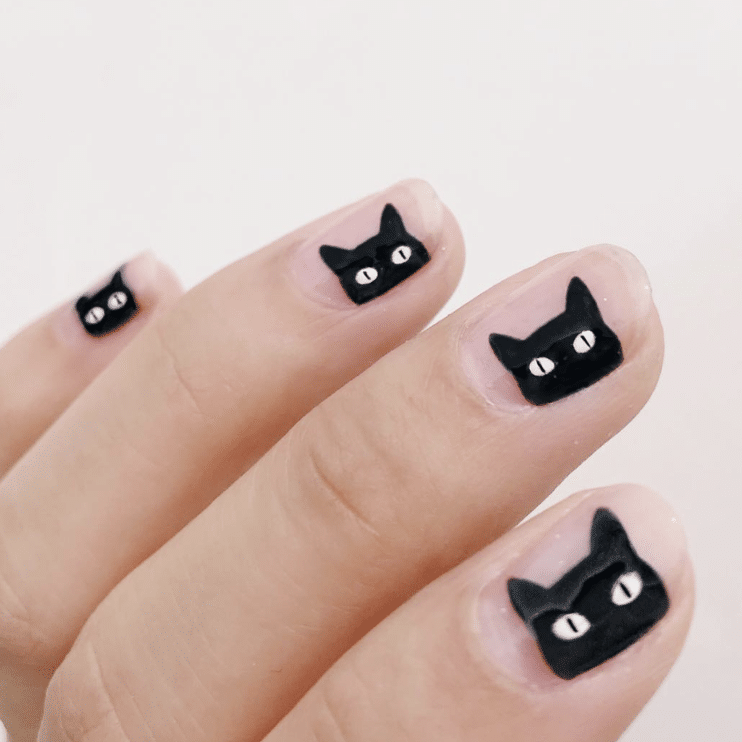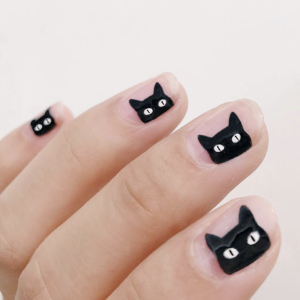 SOURCE: @thehangedit / Instagram
5. Ghosts French Tip Manicure
Try out this genius modification on your next French manicure, by making one side thicker for a ghost face. The face is just three dots and makes this design very friendly for beginners and kids. This Halloween nail art idea is the perfect mix of spooky and spirited!
Try recreating this white, ghost manicure with sundays studio's non-toxic nail polish in shade No. 01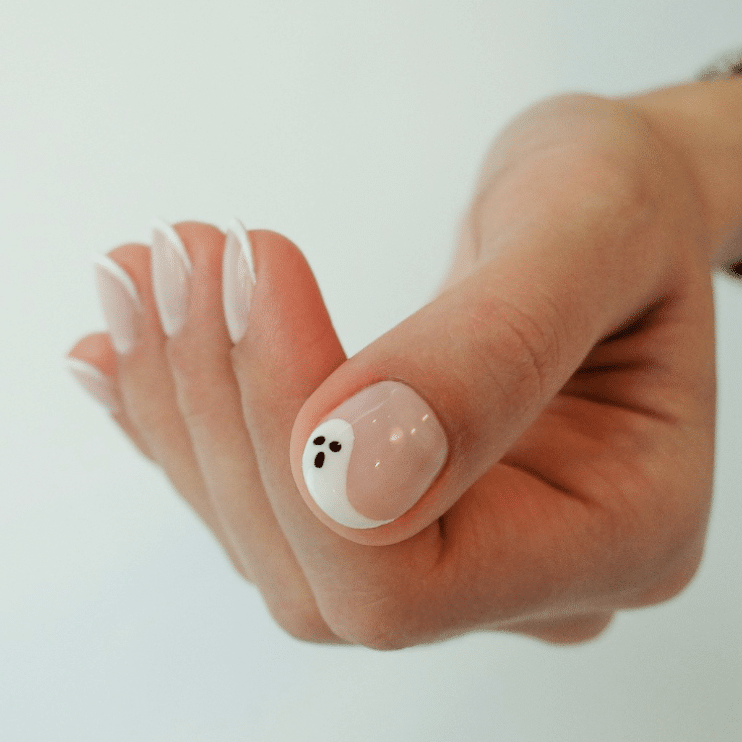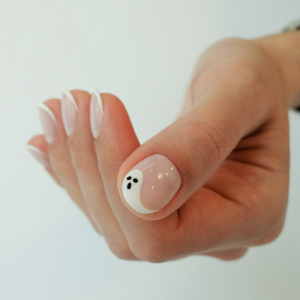 SOURCE: @mytownhouseuk / Instagram
6. Spider Webs Manicure
This beautiful, intricate-looking spider web design is easier than it seems to recreate with a nail polish pen or liner brush. This image shows a classic white spider web, but the design is versatile enough to be done with black nail polish on top of a white or nude base.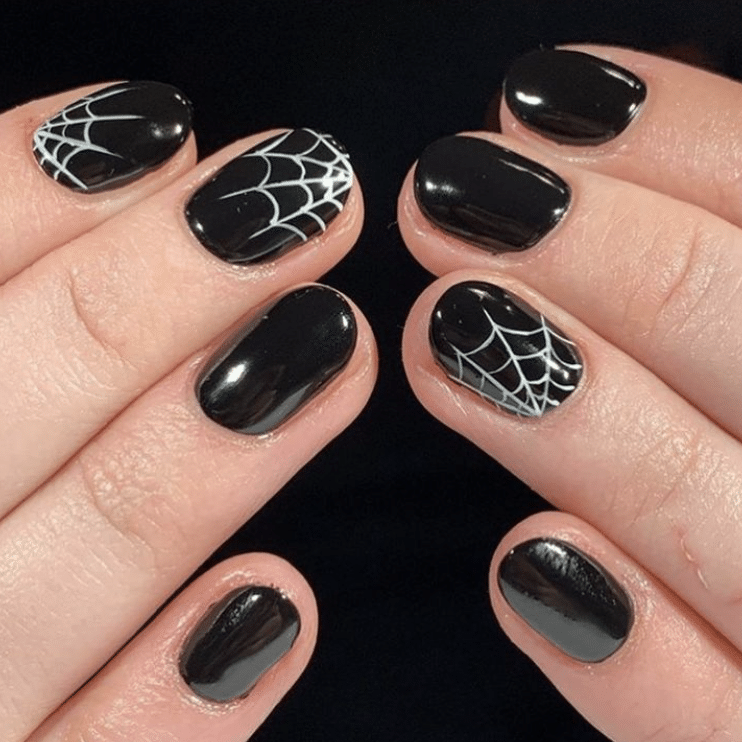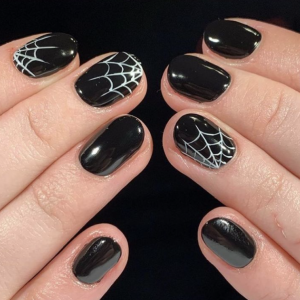 SOURCE: unknown / Pinterest
7. Mummy Manicure
Embrace this hauntingly stylish look as your nails transform into ancient mummies. All you have to do is use white nail polish to paint lines that zig-zag across the nail, and then finish the look by dotting two eyes with black nail polish. This Halloween nail art idea adds an eerie but playful touch to your everyday tasks.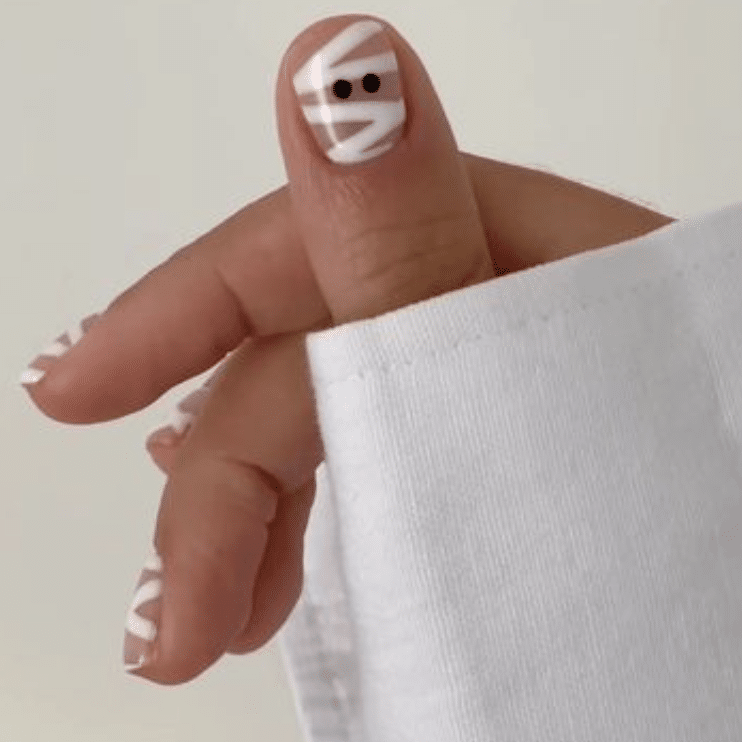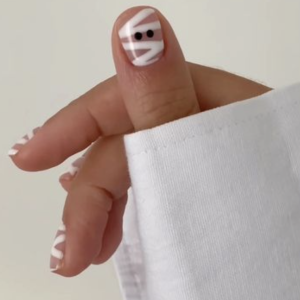 SOURCE: @nailitmedia / Instagram
8. Vampire Aura Manicure
Aura nails have been big news in many mani circles for some time, and now we're getting a Halloween version called Vampire Aura nails. This design is an ombré blend of two or more colors, like red and black, but instead of being applied vertically or horizontally, it's applied spherically to create an "aura" shape.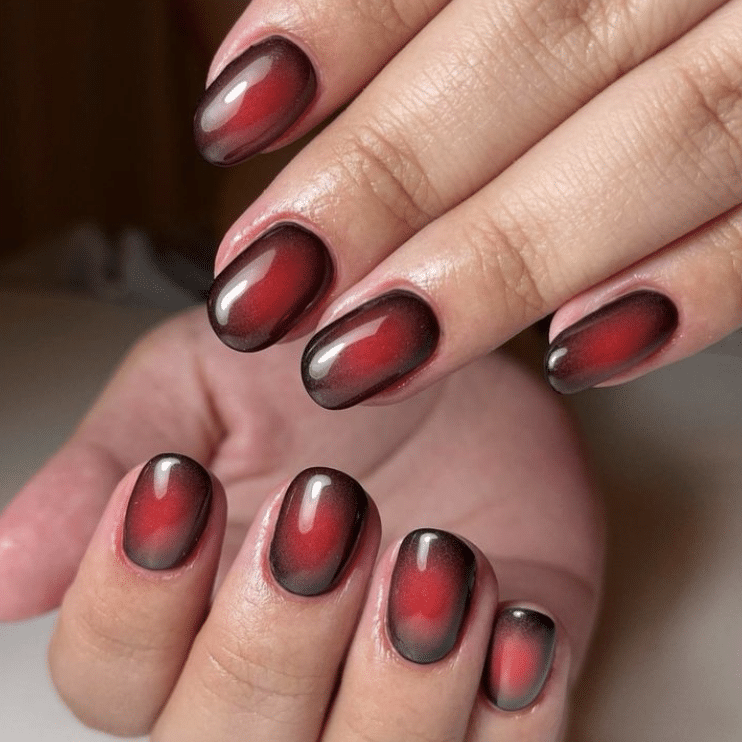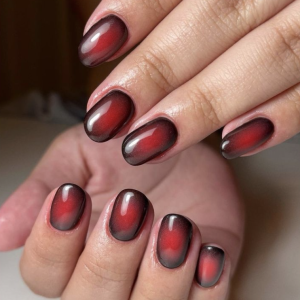 SOURCE: @rebeccapaintsnails / Instagram
9. Mystical Manicure
Do you believe in magic? Well, if you don't, then how do you explain these nails? Being this cute is not normal, so it must be mystical. Achieving a manicure for Halloween like this is easy. Add swirls and sparkles, say abracadabra, and poof! Now you have a dazzling manicure.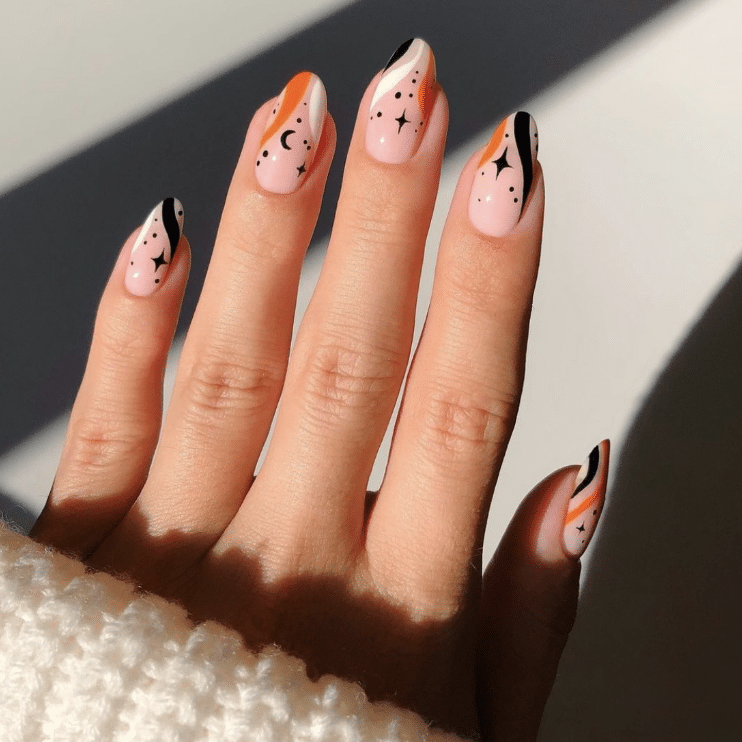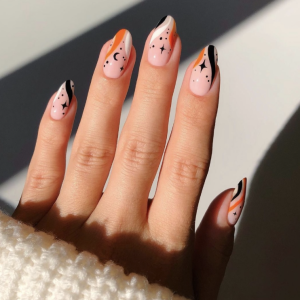 SOURCE: @basecoatstories / Instagram
10. Monster Eye Manicure
We absolutely adore looking at this Halloween nail art idea. The monster eyes can be as scary or as simple as you desire, but either way this design will be the talk of the haunted town! Someone better play Rockwell's "Somebody's Watching Me."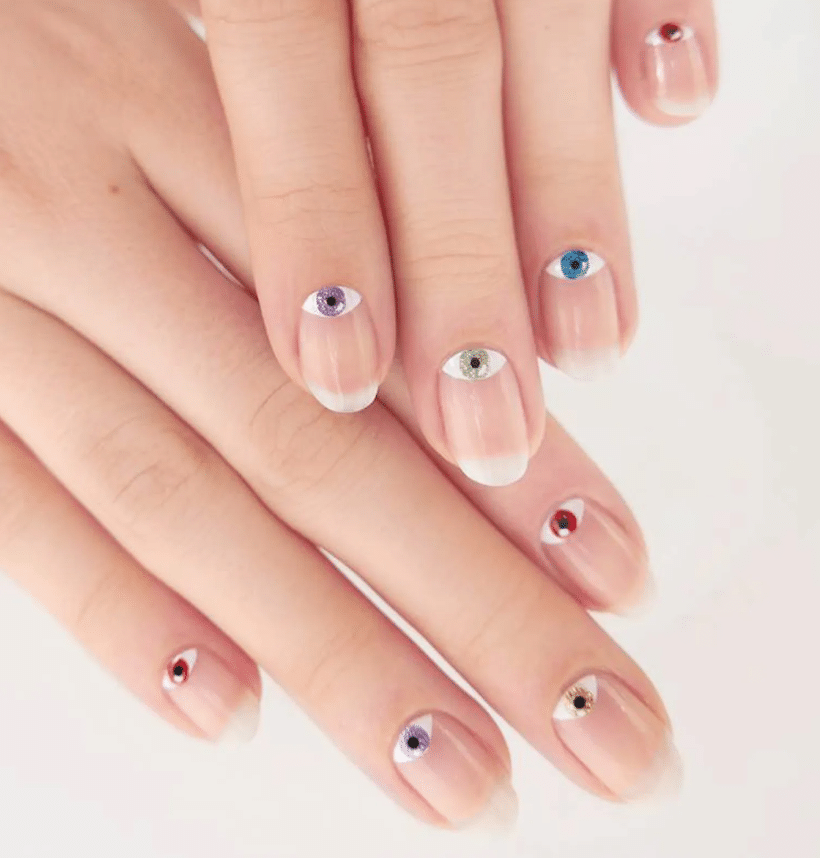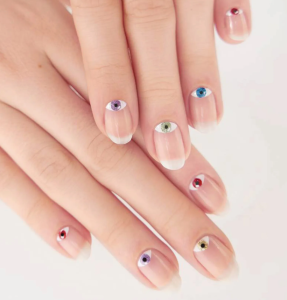 SOURCE: thezoereport.com

11. Snake Manicure
Everyone loves snake print nails, but we love snake manicures that play with negative space to connect the complete manicure together. Start with a base coat, add a snake-like squiggle, thicken your lines, add details, and you'll succeed. It's ssssso cool!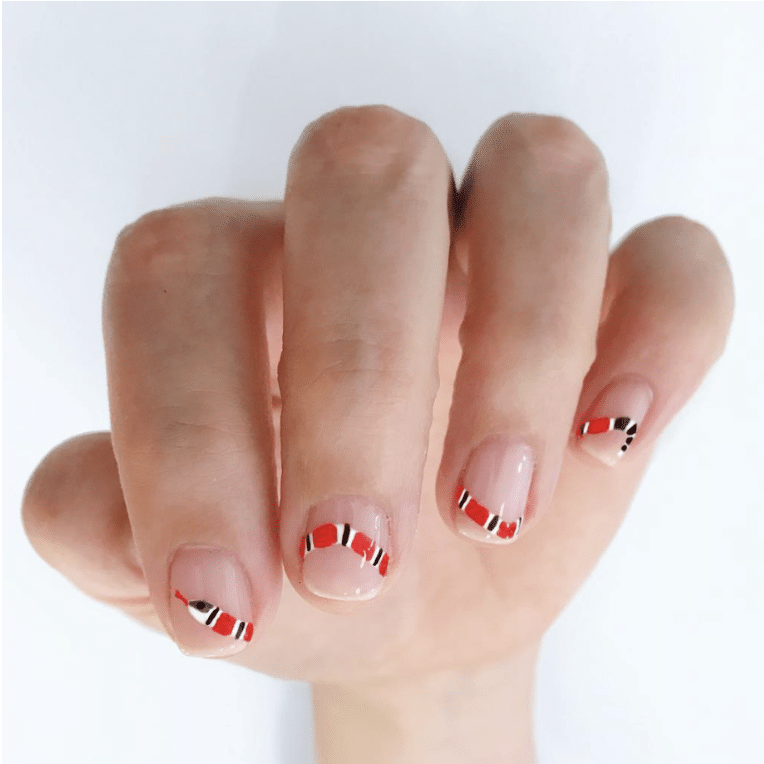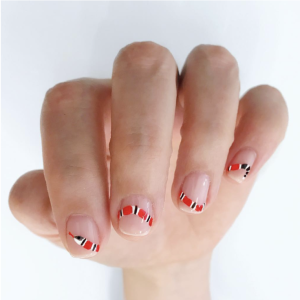 SOURCE: @thehangedit / Instagram
12. Spiral Manicure
Swirls are the most hypnotizing Halloween nail idea we've seen yet, and we are completely entranced with how cool these look. This reference image has black and white nail polish, but we imagine this would also look great as orange and purple. Feel free to wobble around as you draw the lines, as it gives a spookier vibe to the whole design.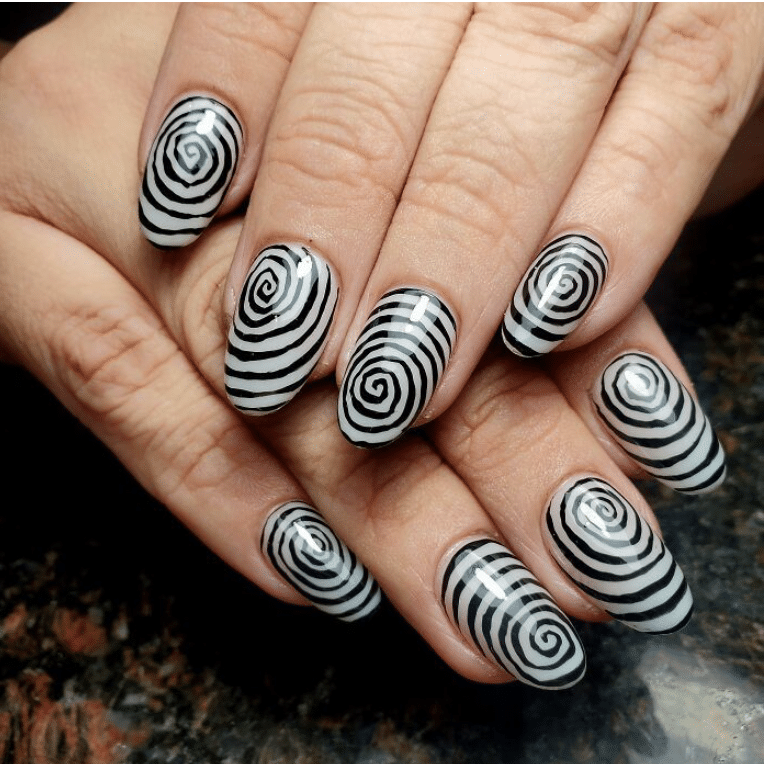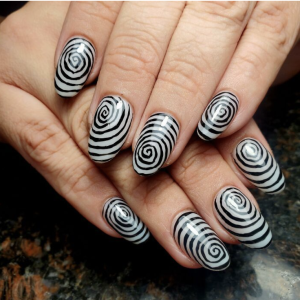 SOURCE: theboredpanda.com
13. Black Glossy Manicure
Sometimes the simplest style is the right style, and this is definitely the case when it comes to a classic black, glossy manicure. It doesn't get any more Halloween than this. 
Try recreating this classic, glossy black manicure with sundays studio's non-toxic nail polish in shade No. 42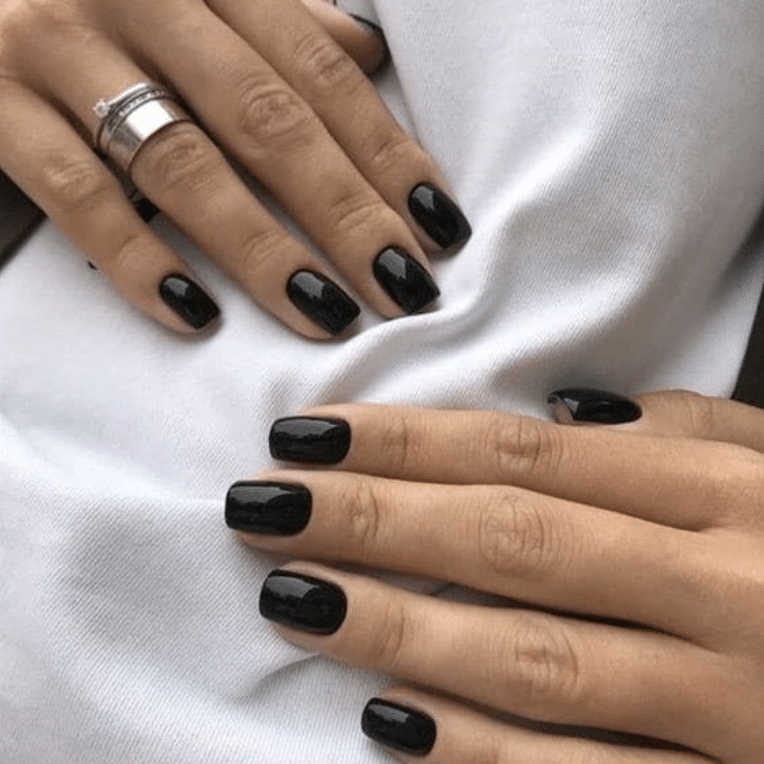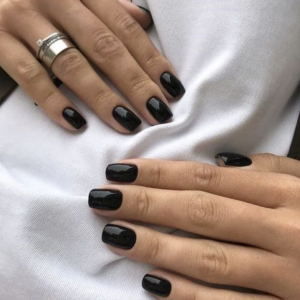 SOURCE: @gloss.studi0 / Instagram
Summary
We hope you have been inspired by our guide to Halloween nail art ideas for 2023. Countless nail enthusiasts are just as excited as you are about the magic of October 31, with some already serving up Halloween looks, sleek black and white designs, and creepy critters. These fun manicure ideas can stand on their own if you're not dressing up or serve as an awesome enhancement to your Halloween costume and/or makeup look.